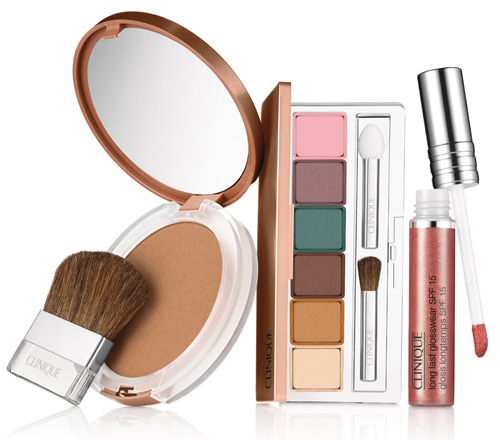 We've been talking about pops of colour this summer, and Clinique has joined the party with their Brandied Bronze collection.
I gotta say that the best part of the collection is their Brandied Bronze Color Surge Eyeshadow palette which features 6 mini eyeshadows instead of the usual 2 or 3.  The shadows are the right size, because you're never going to run out of eye shadow are you?  The Color Surge formula is amazing because it really has a punch of colour and shimmer and lasts forever on the lids even without a primer.
The palette is the best part of this whole collection and is totally purchase worthy.  It features shadows in shimmery sand, gold, dark bronze, violet, teal, and pink.  All the shadows are in their new Super Shimmery formula so they have a big punch of shimmer rather than something that's soft.  They're great for summery nights out, but I didn't really feel comfortable wearing this on more "professional" days.
Check out your nearest Clinique counter to get your hands on this one, it is available now.