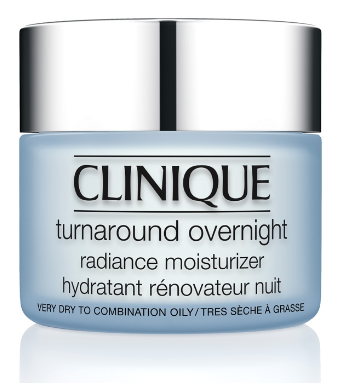 I have had the Clinique Turnaround Overnight Radiance Moisturizer sitting in my drawer for a while now, but other products seemed more glamourous to use, so I just didn't get around to trying it. Then a friend who used to work at a Lancome counter told me that she used to love the original Turnaround cream when she could get it for free at the neighboring counter. That's when I knew I had to try this.
There was no doubt that the Turnaround line is good: both the original and the new have salicylic acid in them which helps exfoliate the skin. That's what makes your skin look like it's glowing when you wake up. The new moisturizer is for very dry skin, and helps hydrate while you sleep. It has immediate and long-term moisturizers that really work.
All the claims are true, and I love using this moisturizer. It's the best for winter parched skin, especially when the air is so dry.
Pick it up for $51.50 at the Clinique counter. As always, it is 100% fragrance and oil free making it useful for all skin types.