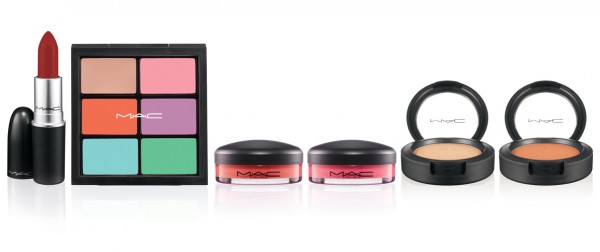 When it comes to festival makeup @maccosmetics hits it out of the park with their Mia Moretti collection which launches today, April 2nd.
Surprisingly, the collection is devoid of any glitter and focuses on easy-to-apply formulas paired with a palette that offers bright pops of colour for the eye area.
There's also a Who's the DJ? Lip Palette which has shades of lipstick you might not otherwise purchase, but are perfect for a day out.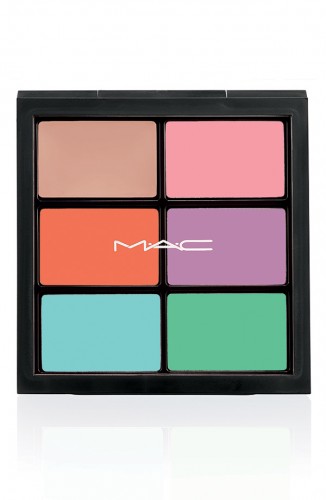 They are:
Desert Sun creamy nude (amplified)
Weekend 1 bubblegum pink (amplified)
She's a Peach bright salmon (amplified)
Weekend 2 lilac (amplified)
Umbrella Sky bright sky blue (amplified)
Vintage Radio seafoam green (amplified)
There is one new lipstick colour in the collection:
Maria Moretti cherry red (amplified)
I feel like we've seen High Tea before, and it seems like a colour that's easy to wear.
The two cream colour bases are in a bronze and a shimmery highlight colour… which makes them perfect for… you guessed it: contouring!
Ok, if you're going to do this then do it with a makeup sponge while your liquid foundation or moisturizer is still slightly damp and the look will be more natural. If you use setting powder or powder foundation, then use that on top.
Colours are:
Desert Roadtrip golden bronze
Summer Wind pale sand shimmer
The Casual Colour is amazing. It's more blendable than the Cream Colour Base, and the coral colour is bright enough for the lips but still light enough and emollient enough to use on the cheeks.
Puttin' On the Spritz bright intense coral
P.S. I Like You carnation pink
The accessories are:
Mia Moretti Tote $50
Mia Moretti Makeup Bags $46
The collection is online or at MAC counters now. There's no special packaging, but the shades are different enough that it's a collection worth checking out. The Casual Colour is a unique formula, and if you're looking for an easy lip and cheek duo to wear in the summer, then this would be a good one.