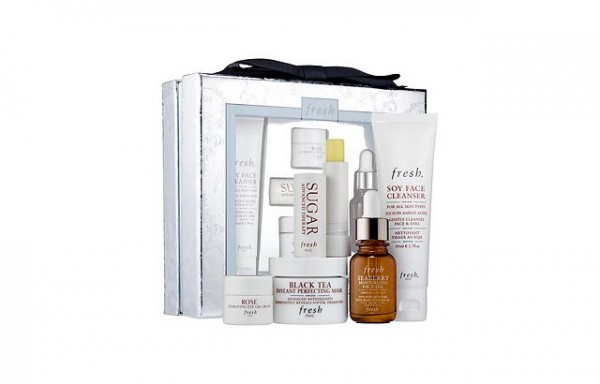 I absolutely adore Fresh skincare products and so their holiday gift sets get me excited.  They're a great way to stock up on old favourites and try something new at a significantly lower price.
The Skincare Affair is perfect for people who are interested in better, gentler skincare products. It's a $114 value for $85 and contains some of my favourites, such as the Soy Face Cleanser (so gentle that I let me toddler use it) and the Sugar Advanced Therapy Lip Treatment.  There's also the Black Tea Instant Perfecting Mask, and a Seaberry Moisturizing Face Oil (which I had never tried).  There's even a gel eye cream in there which is both light and refreshing for use around the eyes.
Fresh products are made with natural ingredients, and are formulated without – Parabens, Sulfates, and Phthalates.  The first ingredients in the Seaberry oil are actual oils (not silicones), and the Lip Treatment is made almost exclusively of beeswax and other emollients so it really works on the lips.
This set is out for the holidays but is in some Sephora stores already!  Head to the website to find it near you, or to order.