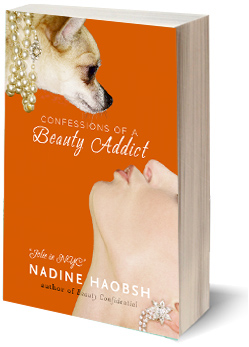 I just finished reading Confessions of a Beauty Addict by blogger Nadine Jolie! I've had this book on my shelf for a while, and it's too bad that I took my own time in reading it, because it really is very good!
Confessions of a Beauty Addict chronicles how a magazine editor Bella Hunter loses her job after a tell-all article quoting her appears in the New York Post. Clearly, this book is loosely based on Jolie's own life (she was fired after her secret blog was found out), but it incorporates elements of glam and love into her life.
If you've always wanted to know what it's like to work for a magazine and see a behind-the-scenes glance at being in publishing, you will absolutely love this book. I also highly recommend it for all the beauty addicts out there!