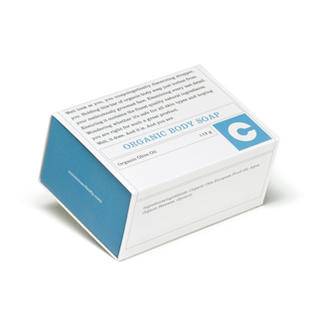 This Olive Oil bar soap is for all you organic product lovers. It's got exactly four ingredients: organic fruit oil, water, organic beeswax and naturally occurring glycerine.
Even if it wasn't fabulously chemical free, I would have picked it up because of the lovely, simple packaging anyway, it's a nice, clean white box that comes with a little round loofa to rest the bar on when it's not in use.
The soap itself is lovely as well. It doesn't lather a whole lot, which is good if you have dry skin because it won't strip unnecessary moisture from you skin while you're showering. However, it does leave a bit of a film on your skin, which those of you who like that squeaky clean feeling won't like.
The only way to describe the scent of the soap is un-fragranced. It smells a little like olive oil, but apart from that doesn't leave much of a scent. It doesn't smell chemical, like other fragrance free products either, it's just sort of a nice, earthy smell that feels clean, but not overly powerful.
The 112g bar is around $12 where Consonant Body products are sold.