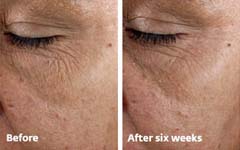 It seems that anti-wrinkle serums are a dime a dozen, and there doesn't seem to be any end to the anti-wrinkle craze.  But what really works and what doesn't and how do you really tell?
Well Consumer Reports went out and tested a bunch of different wrinkle serums.  They found that every single serum worked for someone, and every single serum had absolutely no effect on someone else.
They used a high-res digital camera to compare before and after pictures and basically found that most serums had little effect on wrinkles.
Consumer Reports found that DermaSilk 5 Minute Face Lift and Neutrogena Ageless Intensives Deep Wrinkle performed the best on wrinkles.
The only flaw with the report is that they only tested 9 serums, and although they say that the went through department store and drugstore products, most department store brands weren't on the list and they didn't try anything very expensive to see whether it would work.  You can check out all the ratings on their website.
Their final recommendation (and one that I've heard many times) is that if you want to see true results, prevention is better so make sure you moisturize and use sunscreen daily.  Also, if you want immediate results, get a prescription for Retin-A.