I have finally found my holy grail of at-home hair dyes.  It only took me a few years, but I found it!
The product is Couture Colour Luxeblend Creme Hair Colour and you too can get your hands on it because it's available in-store and online at Sephora!
So, I'll begin by warning you that the colour does cost more than your drugstore colour.  It is about $30 which is significantly more expensive than the leading drugstore brand which we can usually find on sale for about $9.99.
Still, I think that this is totally worth it and I would buy it again.
The colour is, of course, there, but what makes this truly stand head and shoulders above the competition is the application process.  The process is so easy and that's what makes me love this colour.
Check out how it comes packaged.  At least you get some luxurious packaging for $30!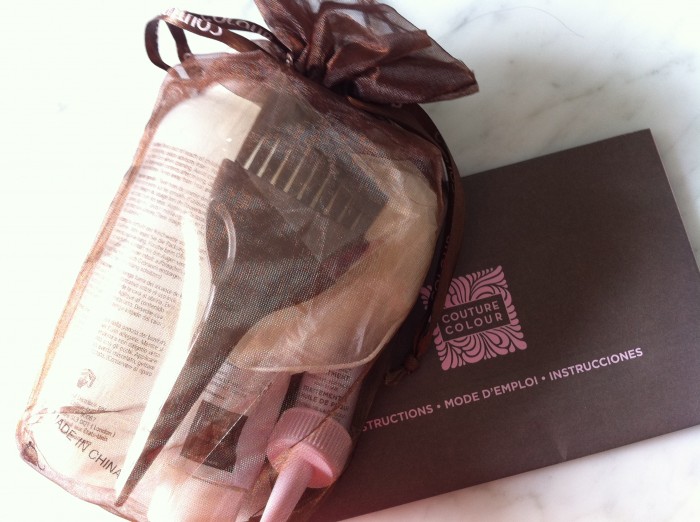 The creme hair colour is thick and completely drip-free.
It is easy to apply, and check this out: it comes with it's own brush so that you can apply like a professional.  Now, they do recommend that you use a bowl to mix the colour in, but I just mixed it in the regular bottle, applied directly on my head, and used the brush to comb it in.  I liked that I never had to get my hands dirty, even though I could have since I was wearing the gloves that came in the box.
Add that to the fact that I had absolutely 0 drips which means that it is the cleanest hair dye that I have ever used.
The best part: there is hardly any smell or scent to the whole process.  Usually I open all the windows when I apply hair colour, but this time I didn't have to open any because I could hardly smell the dye.  There is a slight scent but it's not at all close to what I usually smell when I dye my hair.
The kit comes with a month's supply of Pequi Oil Treatment which is a really nourishing and light oil that absorbed into my hair and made it super shiny.
The colour took 30 minutes to develop and in that time covered all the greys that I had.  The colour was rich and long-lasting.
If there's one thing I could change, it would be that this dye came in more colours.  I had the dark brown or soft black to choose between and I think that there should be more colours in there.
That said, the lack of colour choice isn't enough to discourage me from getting this hair dye, and I absolutely love it.