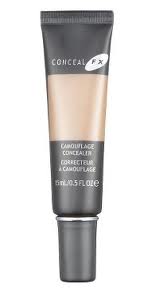 Canadian brand Cover FX is all about perfect skin, so when I had a nasty blemish I had to cover up this summer, I turned to them.  If anyone could cover my skin without making it look too obvious, it would be Cover FX.
Conceal FX has gotten some mixed reviews on the Internets.  Look around, and you'll notice that although people love it, they did invest some time in trying it out.
Fortunately for me, I liked it right from the get go.
The formula is thick and very highly pigmented.  It's a good thing that this comes in a squeeze tube with a very tiny opening because you can really control how much you get out.  I need just a teeny tiny dot for my eyelid, and as you can imagine, an even tinier dot for any blemishes.
The formula definitely warms up quickly and is easy to blend on but depending on the coverage you need, you may just want to tap this on to your skin instead.  So, tap or blend it on, wait a minute, and then continue on with the rest of your makeup because this baby isn't going to move.
The concealer has a primer built into it so that it stays put on the skin and is water and crease resistant.  It has a plastic-like feel that I only felt if I was using it over a large area.  Because this is so pigmented, I really liked blending a tiny bit with a daub of concealer and using it as my very own foundation.
When selecting a colour though, a word to the wise: this gets lighter when you apply it so make sure you try it on your skin before purchasing.  You may find that the colour in the tube is actually a lot lighter when you rub it on to your skin.
For $27 this is definitely one of the best concealers out there because of how long-wearing it is and how long one tube will last you.  Pick it up at your local Shoppers Drug Mart.