Cover FX Has You Covered
By Kyle Gordon
It began in hospitals and now Cover FX is a permanent fixture on the shelves of Shoppers, The Bay and Sephora – and for good reason. I've long been a fan and advocate of this natural line, from my first dusting of Bronzed FX way back when. So you can understand my excitement when Melissa from Cover FX sent a host of new products my way.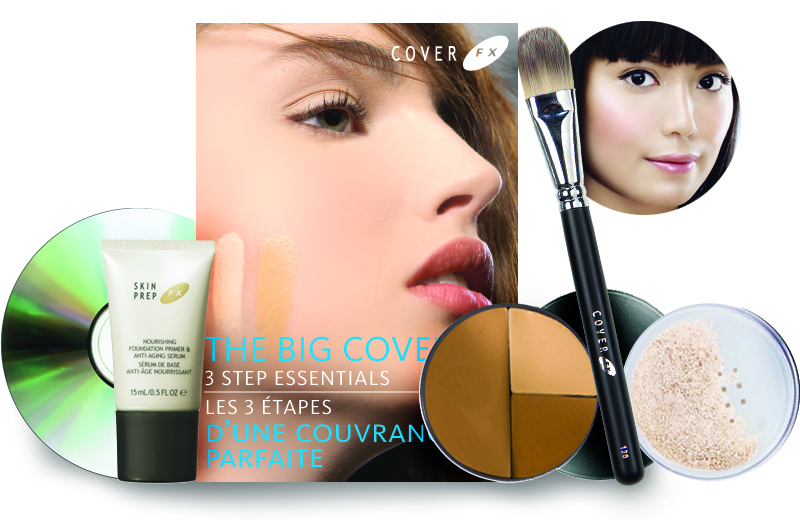 The Big Cover Up
New to the Cover FX family? This started kit is loaded with all the essentials to get you better acquainted with the line: Skinprep FX Nourishing Foundation Primer and Anti-Aging Serum, Cover FX Total Coverage Cream Foundation, Setting FX Translucent Setting Powder, #130 Professional Foundation Brush and an How-to Instructional DVD featuring the line's co-creator Lee Graff. At $75, it's a great way to test-drive the line.



MintGlaze FX
I'm partial to any lip product that leaves me smelling minty fresh. But in addition to its delicious scent, reminiscent of candy canes, this fortifying lip treatment restores lip density and volume, reduces the appearance of lip lines and wrinkles, increases collagen synthesis and captures water for on-going hydration. Plus, with an SPF of 15, it's a must have this summer.
BritePrep FX
Loaded with Bearberry extract, this SPF 50 foundation primer helps repair the signs of photo aging, calms and soothes sun-induced redness and protects skin from environmental stresses. Resistant to water, heat and humidity, it's great on it's own or under your regular foundation.
Cover FX products can be found at Shoppers Drug Mart and Sephora!