I've been using this foundation for the past few weeks and it's my absolute favourite right now.  If you're skin is slightly greasy from whatever moisturizer you wear, topped with some sort of sunscreen, like I do, you want something that's going to absorb the excess shiny-ness a bit but also give you some coverage but also look natural… well I've found that I was looking for and it's the CoverFX Pressed Mineral Foundation.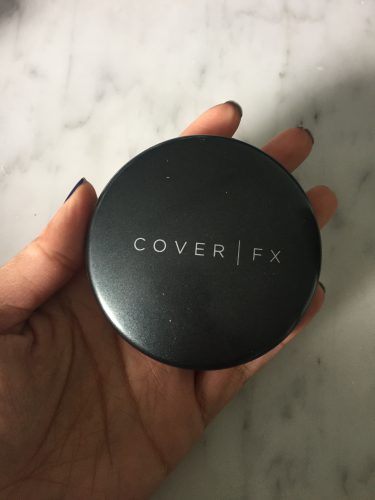 I have the foundation in the colour M40 and it's lighter on my skin than it seems in the pan.  What makes this foundation so great is that there's a high amount of pigment in the powder so you need a tiny amount to cover anything from the veins under your eyes, or any kind of minor pigmentation issues.  It won't cover freckles or birthmarks, so it's not that high coverage, but I would say that it's a medium coverage foundation.
My skin tends to be oily, with few dry patches so I'm not worried about this making dry skin look more dry – but if you have dry skin, that might be something that you should consider.  If you prep your skin adequately before applying this, you should be ok, and you'll notice that moisturizer gives this foundation something to stick to and it'll look better overall.
Through the course of the day, it doesn't move but it's not the best at absorbing oil either.  I can see oiliness start to show on my T-zone in the middle of a busy day, but I also see the foundation on my washcloth at the end of the day so I know it's sticking and lasting the whole day.
You can pick it up at Sephora or online.  $44.