Just a shout-out again to this CoverGirl Clump Crusher mascara.  I accidentally bought this in a dark brown colour instead of black like I was supposed to, but I'm not mad about it.  It's great because you can really layer lots of mascara on and the brush helps keep all your lashes separated.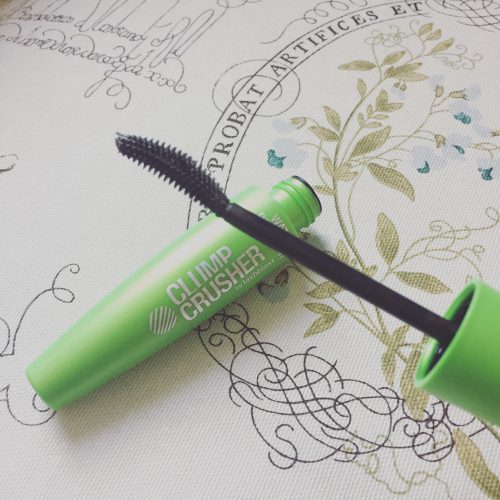 It seems that CoverGirl had me in mind when  they made this mascara.
These days, I haven't got time for my regular face full of makeup, but the one thing that I do make time to apply is my mascara.  Actually, maybe if applying mascara wasn't such an ordeal for me, I'd have time for the rest of my face, but I love the mascara and so I do apply it the way I do.
People always ask me what kind of mascara I'm wearing.  I like to apply a lot.  Maybe 5 or 6 coats in all.  I'm serious, I don't stop at just 1 coat or even the 2.  I just keep going because major lashes are kind of my thing.  I actually like it verging on clumpy yet not clumpy.  I just keep on applying until I notice that the coats might be starting to clump a little, and then I stop.
The key is to find a wand and mascara combo that layers well and then keeps all these mascara-coated lashes perfectly separated.
Well, now that mascara combo magic is in CoverGirl's new LashBlast Clump Crusher Mascara.  This mascara is specially made for people like me.  It's made so that you can apply as many coats as you want and you won't get a clump at all.
The secret is the wand, which is slightly curved and has bristles that are placed really close together so that your lashes get separated every time you run the wand through them.
Also the curving brush?  Perfect.  The beginning and end of the curve match the beginning and end of your lashes, so that you get those little lashes right at the end to curve up just so, giving you the perfect fringe.
The formula, of course, facilitates layering and that's what CoverGirl mascaras all have in common.  They're waxy and dry in just the right amount of time.  There's enough time for you to do a coat on both sets of lashes, and then go back and do more coats.  And then the formula lasts all day, although flaking will entirely depend on exactly how much you've applied that day.
Still, the whole package is pretty major, and this is definitely my new favourite mascara of all time.
$9.49.