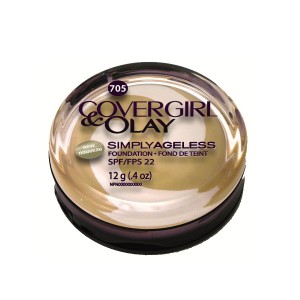 By Kyle Gordon
It seems like a match made in heaven. After much anticipation, CoverGirl and Olay have collaborated to create Simply Ageless, a new foundation that provides natural coverage with the added benefit of Olay's Regenerist serum.
How it works?
The second it hits your skin the creamy texture instantly transforms into a liquid blanketing the skin in age-defying foundation that won't settle into nooks and crannies.
Benefits:
Targeted to women 35+, Simply Ageless combines vitamins, skin conditioners and anti-oxidants to improve the look of skin's texture. "Women typically wear facial foundation at least eight hours daily, so a formulation that helps improve skin condition can have profound benefits over time, especially for those with sensitive skin," says Dr. KucyPon, Olay consulting dermatologist. . As if that weren't enough, this formula also contains SPF 22, so you can feel protected all-day.