Universkin can be found in dermatologists' offices around Canada, and if you're tired of mixing serums to find your perfect skincare, this is a great option!
First Youtube video in a long time, and I thought I'd show you guys some of my skincare routine and something new that I've just added! Follow me on Instagram: @CanadianBeautyDotCom; or on Twitter: @CanadianBeauty!  A huge thank you to Dr. Stewart Adams and the team at Market Mall Dermatology for taking the time to teach me about the serum and the ingredients, as well as for taking me through the process of getting my own serums made.  Their information is located at the bottom of the page.
Universkin is bespoke skincare available at the dermatologist's office. Check out their website here: http://universkin.ca/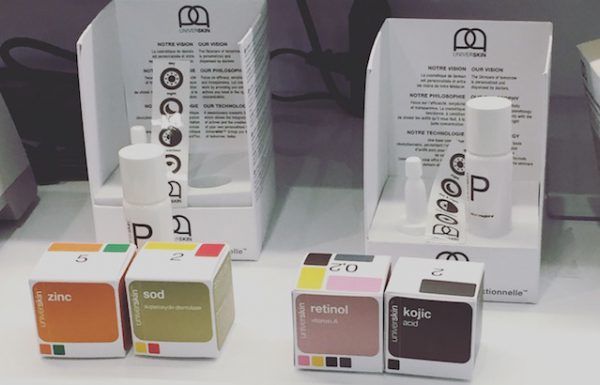 A consult with a skincare specialist determines your skincare needs, including taking care of problems such as:
• Stressed skin
• Wrinkles, loss of volume
• Inflammation, redness; inflammatory acne; symptoms of irritable skin/rosacea
• acne
• Dry skin
• Thick skin, blackheads, comedones
• Oily skin
• Lentigo, melasma, post-inflammatory hyperpigmentation
• Acne
I was most concerned about hyperpigmentation so my formulas deal with that.
The base of the formula contains:
• Omega-3 and Vitamin E sourced from organic camelina oil allow the skin to produce natural anti-inflammatory compounds
• Biomimetic peptides are biological messengers for the physiological balance of the skin
• Hyaluronic acid maintains the skin's extracellular matrix
You can add up to 3 pharmaceutical-grade "Active" ingredients to the base. There are 19 Actives to choose from; 57 possible concentrations and 1,159 unique formulations.
• Ferulic Acid
• Vitamin C/L-Ascorbic Acid
• Vitamin A/Retinol
• Novasoy Isoflavones
• Madecassoside
• DMAE
• Vit B3/Vit PP/Niacinamide
• Azelaic Acid
• Rutin
• Vitamin B5 or D-Pathenol
• Aloe Vera
• Glycolic Acid
• Phytic Acid
• Salicylic Acid
• Zinc Sulphate
• Arbutin
• Kojic Acid
• Lactopeptides
• SOD
If you have any questions let me know in the comments!
Market Mall Dermatology (in Calgary)
Address: 
446, 4935 40th Ave NW, Calgary, AB T3A 2N1