If you're looking for a unique perfume, then you need to check this one out: fresh, crisp, damp, almost minty… and did I say fresh?  It's very very fresh, almost like snow in the woods.  You need to smell it to believe it.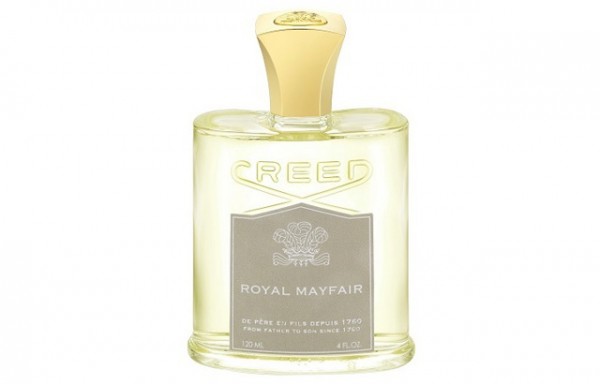 Creed Royal Mayfair is a unisex scent (thought on the more masculine side) that was launched last year by Creed Perfumes.  The scent was created as an homage to the Duke of Windsor, and is a reissued version of the Windsor scent.
Notes for Royal Mayfair are: gin, lime, and pine.  Middle note is a rose one, but a rose note that's damp and wet, and not overly floral.  Base notes are: orange, cedar, and eucalyptus.
As you can see from the notes, this is an unusual men's scent given that there's rose in the heart of it, and not a bergamot or lemon note to be found.  I really like that this scent doesn't initially smell like Pinesol like a lot of other men's scents do.  It smells so clean and fresh that it doesn't even smell like what we traditionally think of as perfume.  The drydown is very dry and almost musty and the scent has decent sillage for at least the first few hours that its worn.
Royal Mayfair is perfect for those of us who don't mind cold weather, the rain, walks in forests, and strong mints.
You can find Creed perfumes at Holt Renfrew, Harry Rosen, Saks, Nordstrom, and La Maison Ogilvy.  You can also order it online.
$260 for 1 oz, $385 for 2.5 oz, and $670 for 8.4 oz.