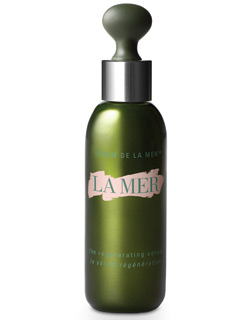 Creme de la Mer has come out with their new Regenerating Serum this month, and I've been using it in conjunction with ProActiv (which I said I was not able to use daily).
The Regenerating Serum says that it will diminish the look of wrinkles and pores making your skin look clearer and younger.
The formula is definitely silicone-based, but the silicons are super light and I found that they didn't clog my pores at all, like many silicone-based products can.  This went on light, absorbed into the skin in less than a minute, and definitely left me with smoother skin than I started out with.  After a few weeks of use, I noticed that my skin was clearer (some scarring was definitely lighter if not gone altogether), and it's stayed clear as long as I use this serum.
I didn't use this with a moisturizer – I found that it was just fine on its own, and my skin felt very comfortable wearing this during the day or at night.  I didn't use it every morning and night, but just once a day.
All in all, this is a definite buy, and it costs $340 per ounce – available only at Holt Renfrew in Canada.