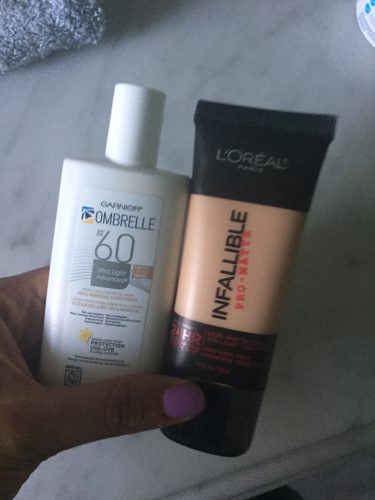 Layering foundation and sunscreen in the middle of the summer can be a real pain, but I've figured it out, and I'll admit that it's against the advice of dermatologists and sunscreen makers.  I mix the Garnier Ombrelle sunscreen with L'Oreal Infallible Pro Matte foundation.  The Foundation colour I use is 109, so it's a little on the dark side for me, but the Ombrelle foundation is tinted light beige, so they kind of even themselves out.  The coverage is heavy or sheer, depending on how much foundation I mix in, but it's usually about medium coverage, simply because the Pro Matte Foundation does have so much pigment in it.
Now, mixing foundation and sunscreen is a no-no.  Firstly, it dilutes the SPF factor, possibly making your sun protection inadequate.  However, the Ombrelle sunscreen is SPF 60, so I think I'm ok with a few drops of foundation in there.  Secondly, if you really want good coverage, you have to keep reapplying sunscreen throughout the day especially if you're in the sun for an extended period of time.  Now, if you're wearing foundation, you're probably not reapplying all the time, but powdering with an SPF-containing powder would help.  I prefer to stay in the shade all together.
The other problem is that sunscreens contain film-formers which help the sunscreen stay on your skin and give you adequate sun protection.  If you're messing with the formulation, either by adding moisturizer or anything else, then you're messing with the film-formers, possibly causing the sunscreen to melt right off your skin sooner than it should be.  However, foundation also has film formers in it, especially matte foundation that's meant to be long-wearing like the one that I'm using, and so I actually find that these two mixed together set really quickly and I know that they stay on my skin because when I wash my face with a wet towel at the end of the day, there's foundation all over it, so I know that it's lasted through the day!
I'll tell you that the Pro Matte foundation and the sunscreen have almost the same texture – slightly liquidy that dries to a matte dry finish, so that's why I feel that they go so well together.  Because they are so matte, I add highlight on top, and contour because there's so much coverage, that your skin might look a little flat if you don't.
So that's my routine right now… as always, mix at your own risk, but this has been working for me, and I think wearing sunscreen is better than wearing no sunscreen at all.
Here's my original L'Oreal Infallible Pro Matte foundation review from 2 years ago, and it's still one of my favourite foundations.