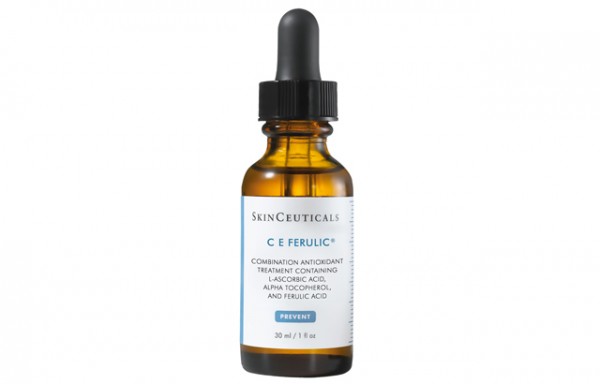 Here's another oldie but a goodie.  I first used this serum in 2010, but I didn't like the scent back then and didn't stick with it.  Since then, I've used it again in 2012 and then in 2013 when I didn't mind the scent and just needed something that would work, and have been using it on and off since then.  Right now, it's a mainstay in my skincare routine because it's so light and perfect for using over the summer.
I love using vitamin C products on my skin because in a short amount of time they can brighten up skin without any dryness or other side effects.  Vitamin C is a powerful antioxidant that also helps fight damage from free radicals and the sun, and in this serum, it's paired with Vitamin E and Ferulic Acid, both of which work together to combat the effects of sun damage and protect the skin against further damage.
This serum has 15% vitamin C which is a potent enough amount that you're going to notice a difference when you use it.  It's light enough (almost watery) that you can use it morning and night under almost any moisturizer.
The only thing to complain about is the scent – it smells like sesame seed oil which isn't a smell you want to be rubbing on your face, but the smell doesn't linger and I definitely don't have trouble falling asleep because of it.
I'm happy because I know that I'm using something that's actually going to be effective on my skin and will lighten the effects of sun damage over time.  It's expensive but it works, and there's no drugstore product I've found that has 15% vitamin C in it.
About $150 at medi-spas and dermatologists office.  For store locator visit www.skinceuticals.com/canada.