Daphne Guinness admits that she has created the MAC collection for herself, and that is just fine.  It just means that those of us who are not as fair as she will have trouble finding colours that really work for us.  Guinness is an artist and collector who is heir to the Guinness beer fortune.  She has an eye for unusual colour and for making things fit together.  She has also previously been the inspiration for a Nars collection and even had an eyeshadow colour named after her (it was a rich royal blue).
Here are all the products from the collection as well as the prices.

PIGMENT Aurora Pinked taupe (frost)
Circa Plum Frosty dirty mid-tone lavender (frost)
Nebula Dark greyed brown with pearl (frost) $20.00 U.S./$24.00 CDN
PRO LONGWEAR LIPCREME Warp Speed Light silver Red Dwarf Blue-pink
Seasoned Plum Mid-tone lavender Approaching Storm Deep rose $17.00 U.S./$20.00 CDN
CREMESHEEN GLASS Borealis Pale grey pink with iridescent pearl
Japanese Spring Pale dirty pink
Narcissus Dirty eggplant Richly Revered Deep brown plum $18.50 U.S./$22.00 CDN
POWERPOINT EYE PENCIL Engraved Rich black
Grey Utility Uniform grey $15.00 U.S./$18.00 CDN
EYE BROWS Fling Light taupe ash blonde
Stud Deep rich blackened brown $15.00 U.S./$18.00 CDN
EYE SHADOW X4 Interior Life Quad Stratus Light pink (matte) Interior Life Mid-tone grey blue (veluxe pearl)
Bruised Sky Dark lavender-y grey (satin) Heather Belles Dark charcoal/carbon (satin) $38.00 U.S./$45.00 CDN
BLUSH OMBRÉ Azalea Blossom Light cool pink
Vintage Grape Mid-tone violet pink $26.00 U.S./$31.00 CDN
NAIL LACQUER Hyperion Light grey blue green (crème)
Endless Night Pale grey pink with iridescent pearl (frost)
Blueblood Deep eggplant (crème) $15.00 U.S./$18.00 CDN
I ended up getting two of the nail polishes from the collection.  The images are below, but first, here's a Q and A with Guinness herself: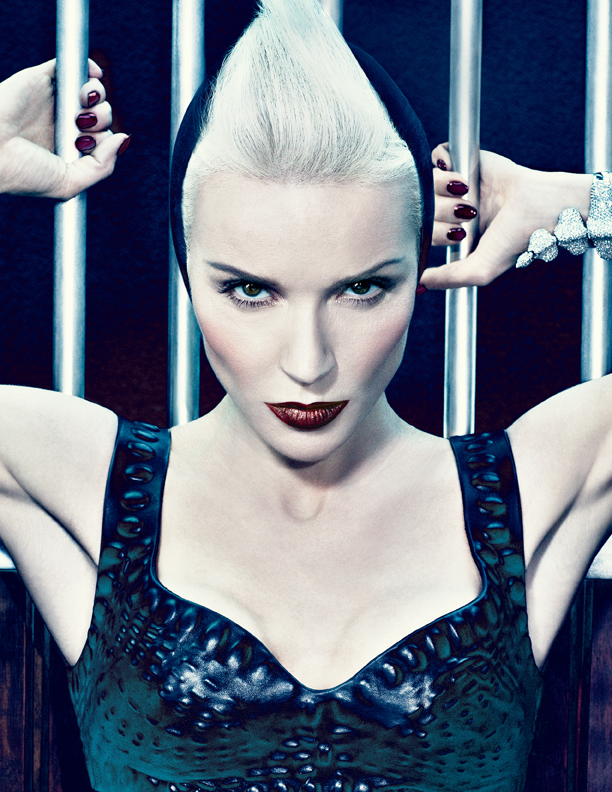 Let's go to the beginning, for you personally. Can you tell us about some of your first experiences with cosmetics?
Well to be honest, there wasn't much makeup around when I was growing up! I never really thought of it. But I was always painting. Let me see…Did I paint myself? I tried to make myself look Japanese…I had a Japanese nanny, and I love the Japanese aesthetic, so I remember trying to achieve that look. But instead of makeup I would use watercolours or acrylics or anything Icould get my hands on. Sometimes I would paint pictures on my face, on my eyelids or whatnot. Now if I want to do something like that I go over to the M·A·C Pro Shop in Canada and get these pigments that make your skin really white and pearly. You can use them on your body as well. I was always fascinated by makeup. My mother didn't wear any at all and I always thought that was such a great loss because it seems to me that the only point of being a human being is being able to transform the way you look!
Tell us a bit about your creative process as it pertains to this collection.
I was in the Beverly Hills Hotel – and let me tell you there's always some mad project going on in my bedroom when I'm there, ha!
I had parchment papers spread all over the floor and all sorts of different powders and watercolours that I was mixing together
and my finished pieces were drying on the balcony. I was painting for so long on that floor. When I'm given a task, I take it really
seriously. I start with the raw materials and mix them and all the while I imagine art references and try to consider the Old Masters and try to figure out how they mixed this colour or that colour. Then, when the pieces were done, I packed them all in my suitcase to show M·A·C. Maybe it all sounds strange, but I'm always playing with colours and pencils and paints. I do it all the time! For me a recurring theme in my work is history and the universe – the smallest things and the largest things and I explore that through colour. The process that I'm always in.
Are there any specific historical or fashion references that directly influenced this collection?
The thing is I don't like to copy anything and I really try to come up with something completely new. Of course, you have to work with things that are in your frame of reference, but I really aim to create a new colour or at least a new configuration of colours together. As Degas said, "You have to copy and recopy the masters," but you can only do that for so long and then you have to do your own thing. Otherwise you're only going backwards and not forward. So I try to take my references from the past and bring them into the present and make them relevant again. I tend to like classic things that you can use many times instead of fads; trends annoy me actually. There's one thing in loving beautiful things and admiring people's creations, but a trend? I quite prefer things to move forward, but to exist as a pinnacle of quality.
As for more specific references I would reiterate my love for the Old Masters: Titian, Zurbarán Michelangelo. And I might say that
I'm absolutely fascinated by butterflies and outer space. Blimey, I have pictures from the Hubble space telescope and some of those are just extraordinary, and if you look very closely at a butterfly's wings or even perhaps a jellyfish, you'll see there are similarities. I mean, I'm not being mad, just have a look! It just absolutely blows my mind.
What are some of your favorite pieces from the collection?
Well for instance, I'm quite proud of the Hyperion Nail Lacquer. It resembles this almost grey, steely light that is pure Whistler from the 1890s when he still had fog in the paintings. The shade is so beautiful and it also reminds me of a celadon-coloured antique Chinese porcelain vase. Porcelain in that colour is rather compelling. There's something about these sorts of shades that I find quite lovely, and you'll see that this collection is all about cool tones. I'm not a real primary colour person, and warm colours do not become me. Anyway we can't all be bouncing along the beach looking sunkissed. I'm never gonna be that girl. I wish, but it ain't gonna happen! I'm just not great with browns or terracottas and perhaps aside from daffodils, I think yellow is bad luck. I hate canary diamonds with a passion!
So, here's my picture of the Hyperion Nail Lacquer.  I think that it probably looked better on Guinness than on me, but it was a lovely whitish grey colour to try out.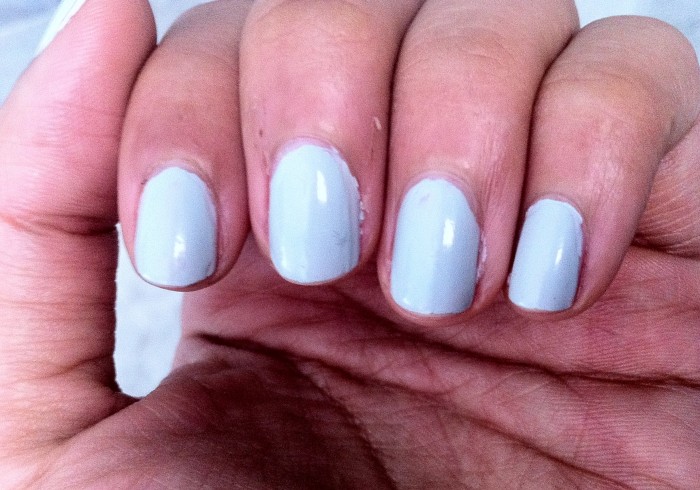 Blueblood was more my style.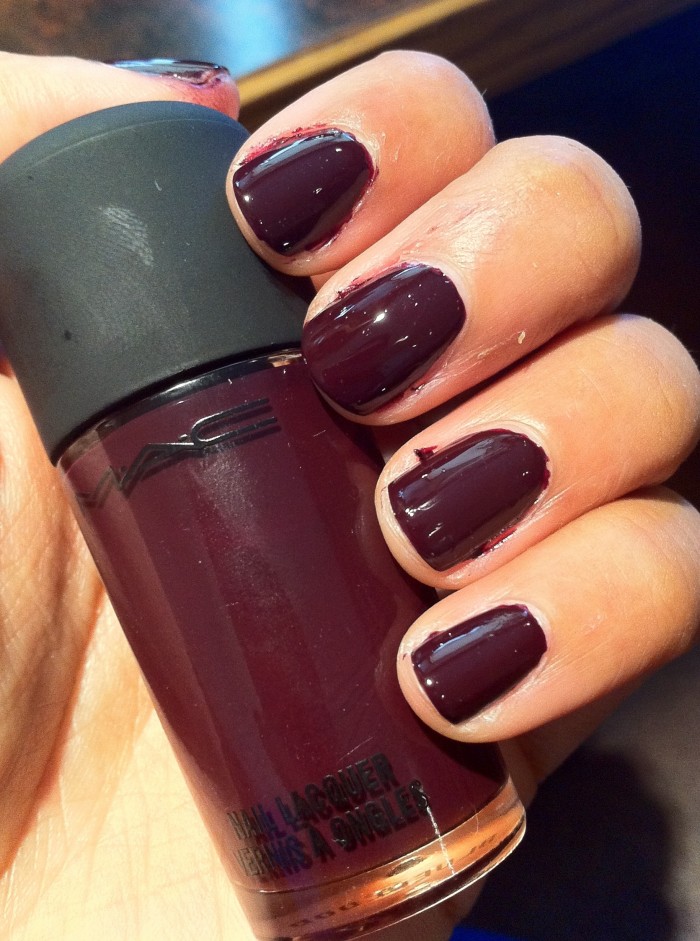 The collection comes out Dec. 26th in North America. Everywhere else it will be available in the new year. What do you think you're going to get from the collection?