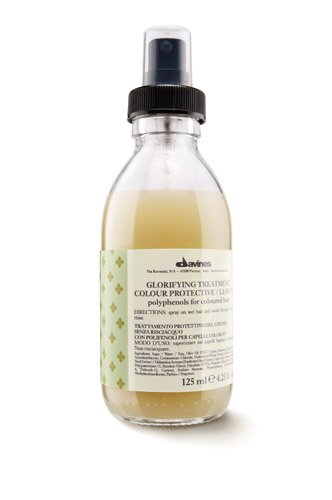 Davines is an Italian brand of hair care products that are sold exclusively at salons and are available world-wide.
I just tried their Glorifying Treatment which is a watery mix of ingredients that promise to lock in colour and make your hair look shiny and healthy.  I was skeptical when using this product because it seemed to be a mix of mostly olive oil and water, but since olive oil has been known to help my hair, and because I do colour my hair, I decided to try this.
It's a leave-in spray that's best used on wet hair and I used it in place of my regular serum.
I found that this helped detangle my hair quite easily, it was light going on, had almost no residue, and did make my hair quite shiny!
I'm not sure if it really protected my hair's colour because that would come off when I wash my hair and I'm pretty sure that this spray could do nothing to help keep it in longer.  I didn't use this in the summer when extended time in the sun could really do damage to colour.
The Glorifying Treatment is a fantastic leave-in conditioner and I like that it has olive oil in it because it's a natural ingredient that does work.  Check the Davines website to find a salon that sells their products near you.