This is the vitamin C that I have in my routine right now and it's life-changing.  It's the most moisturizing vitamin C I've ever used.  The texture is on the oily side, but on my dry skin it absorbs in a few minutes.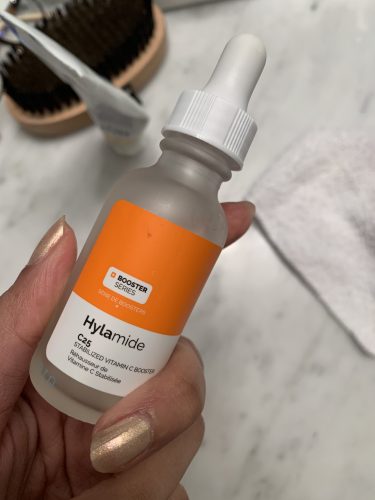 The Hylamide C25 Booster is formulated to be a stable form of 25% vitamin C in a formula strong enough to actually brighten skin.  It is very potent but in a formula that's moisturizing instead of being drying. Vitamin C is a powerful antioxidant which is great for all skin types.  It helps prevent sun damage and hyperpigmentation, so your skin is more radiant after continued use.
Here's how I'm using it: in the morning, I use my Biologique Recherche p50 toner, wait for it to absorb and then apply this Vitamin C generously.  I then top that with my tinted sunscreen.
At night, I'm using my prescription-strength Differin retinol first, and then I'm using a generous amount of this Vitamin C and I'm waking up to better and better skin.  I've also started to use it on the back of my hands, and I don't notice any brightening so far, but my hands have never been softer which is amazing. The Differin makes my skin pretty dry because I just started using it again, so this vitamin C is exactly what I need on top.
Vitamin C is a great antioxidant to incorporate into your skincare routine – it's even been shown to improve collagen levels in skin so it's a great anti-aging ingredient.
You can find this one online. $29.