When you review skincare products as much as I do, there are certain things you look for in products that are high end.  Of course, you check out the ingredient list and look for premium ingredients such as natural oils and waxes and not just mineral oil.  But then there's what you look for when you actually use the product.  You want it to smell good, and you want the scent to last but not be too strong.  A scrub has to exfoliate and moisturize yet the grains need to wash away easily and cleanly.  Moisturizers must contain shea or cocoa butter and not be sticky on the skin.
And guess what?
Decleor delivers on all of these!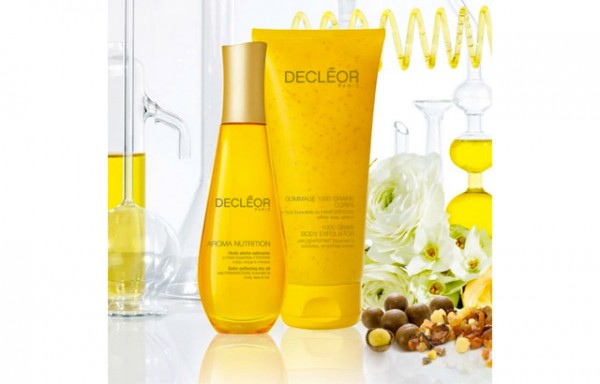 Their new body care line, Aroma Nutrition, marries fine perfume and good skin care.  All the products are thoughtfully scented with the intention that the scent will do just as good for the body as the actual application of the product.
The product line has the 1000 Grain Body Exfoliator ($49), the Skin Softening Dry Oil ($59), and the Aroma Nutrition Nourishing Rich Body Cream ($59) – and I like them in that order.
The 1000 Grain Body Exfoliator is unreal – it contains finely milled natural grains to scrub the skin, and because this is a product to be used in the shower, presumably first thing in the morning, it is scented with the uplifting smell of grapefruit.  It comes out of the bottle as a gel, then turns into an oil when you apply it on the skin, and then emulsifies with the water and washes away clean (kind of like a cleansing gel or balm).  It leaves skin smooth but also hydrated!
The Dry Oil comes in a spray bottle for easy application and smells like frankincense in a sweet almond oil base.  The scent is light and easy to wear, and the oil feels like nothing on the skin making it a treat to use again and again.
The Rich Body Cream is actually super rich and the most strongly scented of the trio, and that's actually something that I didn't like.  The scent is so strong that I didn't enjoy wearing this all over my body.  That said, the cream is great at hydrating the skin and making it feel soft and smooth, so if you really dig the scent, this might be for you!
I really love the scent of frankincense is known to promote calmness and that's why it's been a mainstay in incense – the slightly woody and warm scent is intoxicating and instantly transporting, and it's well used in the Decleor products and sets them apart from others that are out there.