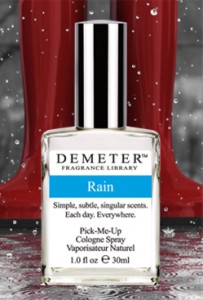 Springs showers are just hitting some places, but if your city isn't one of them, don't worry: you can still get in on the action with Rain from Demeter Fragrance Library.
Rain doesn't just smell like water.  It's a soft subtle scent that smells of warm earth and freshness in the air.  It's a truly unisex scent because it doesn't smell like cologne or flowers.
If you like untraditional scents or just like smelling good then this is the fragrance for you.
You can find this beautiful scent on Amazon.