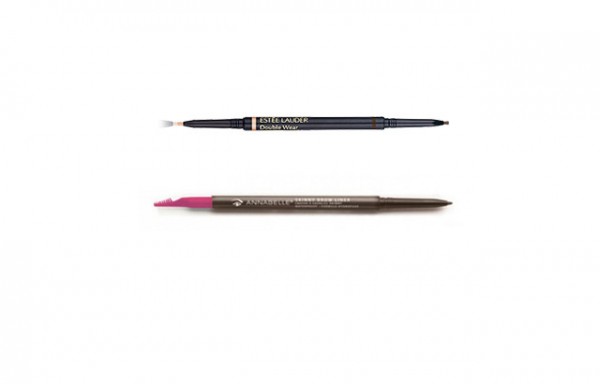 When it comes to eyebrow pencils, the thinner the better. A thin pencil helps you make strokes that look more like actual hairs so that it's not obvious that you're filling in your brows. For a daytime look, this is a must, but good thin eyebrow pencils can be difficult to find (even Nars' option earlier this year was a thicker pencil).
Estee Lauder's brow pencil ($32.50) is amazing because one end is a very fine brown pencil and the other end is a very fine shimmery golden pencil that's perfect for highlighting. The only problem is that it's so fine (because the other side has to be fine) that it takes a long time to highlight your entire brow bone and the nib has a tendency to break.
Thus, I prefer using this only for the brows, but for $32, there's another option. If you're interested in a thin eyebrow pencil, check out Annabelle's Skinny Brow Liner which is only $9. It doesn't have a shimmery highlighting end, but you have enough highlighters, right? Instead, there's a cute little plastic comb on the end, so you can brush your eyebrows into place and then fill where needed.
The Estee Lauder eyebrow pencil is available at Estee Lauder counters, and you can find Annabelle's version at Shoppers Drug Mart locations. Both are also available online (just click the links above).