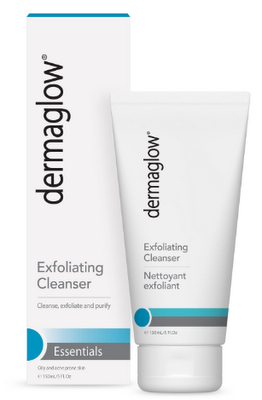 This summer, dermaglow, the line that gives women skincare solutions that actually work, has launched a line called Essentials.  The idea is that this is very basic skincare that everyone can use. It includes some nicely formulated moisturizers, and 4 cleansers meaning that there are options for everyone.
I tried the Exfoliating Cleanser because in the summer I need something that can scrub away oil and dirt effectively.  The formula is very similar to some of the microderma type cleansers that I have reviewed recently.  In fact, it is slightly similar in texture to Vasanti's Brighten Up! but without all the enzymes.  The difference with this cleanser is that it has aloe and marine algae to help calm skin so it really is suitable for any skin type.
I liked that this cleanser is great at scrubbing, but it has a bit of a thick feel which makes it pull skin a little bit.  I can dilute it with water and that usually works, but it's a bit more work than I'd like to put in for just washing my face.
Dermaglow Exfoliating Cleanser retails for $30 at Shoppers Drug Mart.  I am going to be trying some of the other cleansers and I'll update you then!