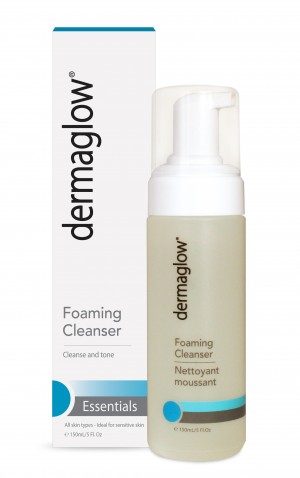 True story: I never use eye makeup remover. Why? Because I rely on a good cleanser to do all the work for me. Granted, this sometimes means washing my face twice to get a super clean, but I don't mind. Eye makeup removers can be greasy and take too much time to use. A foaming cleanser does the job well, but you have to find a good one that will take everything off.
And I've found a real winner.
Dermaglow Foaming Cleanser is one of those liquid products that foams when you pump it out. The foam is light and airy but packs a punch. Put it all over your face and it just emulsifies makeup and oil and washes it clean. It works really well at removing any kind of makeup even waterproof.
But believe it or not, that's not the best part.
The best part is that this is an exceptionally gentle cleanser and that makes it great for using around the eye area. The foam doesn't sting or burn, and though you'll be able to get everything off, the most sensitive parts of your face will do just fine.
The cleanser is soap free, and also free of parabens, dyes, and fragrances. It's no wonder that it's so gentle on the skin. You notice the difference from the very first time that you use it.
Pick it up at your local Shoppers Drug Mart.