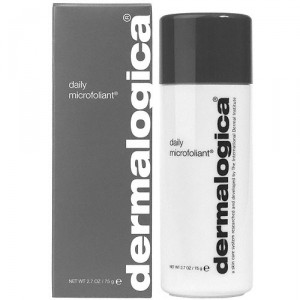 Dermalogica's Daily Microfoliant is an excellent daily exfoliator; if you google it you'll discover a whole slew of rave reviews dedicated to its awesomeness. It's just that great.
It comes in a powder form (travel friendly!), which you pour onto wet hands to create a cream. This is cool because you can control how exfoliating you want it to be by the water to power ratio. As an exfoliant, it's not at all harsh; in fact, I actually doubted how well this would work because there wasn't the usual grainy, scrubby feel of most exfoliators.
It almost seems to disappear as you rub it onto your skin, sort of like a sugar scrub although I've found that most sugar scrubs don't work too well because the sugar dissolves before it can be of any use. It rises off easily and skin doesn't feel dry or tight.
Amazingly, even without the harsh exfoliating grains of most exfoliants, it leaves skin feeling crazy soft and glowing without the usual redness that comes with being scrubbed. It's perfect for girls with sensitive skin that can't use the usual chemical and physical exfoliators because they're too harsh. It's also perfect for everyone else to use as a daily exfoliator because it's so super gentle.
It contains some really fantastic ingredients like your usual salicylic acid as well as rice enzymes that help to microexfoliate; it also contains aspergilus, grapefruit and liquorice extract to help brighten the skin and green tea, ginkgo and oatmeal to help calm the skin.
The only catch is that it's a bit pricy, and Dermalogica is still a little troublesome to find it Canada. It's around $50CAD for 2.6oz of product.
Is it worth the money? I think so. You need less than a teaspoon of product each time so it lasts quite a long time, but even if it didn't I would still recommend it because it's just that amazing.