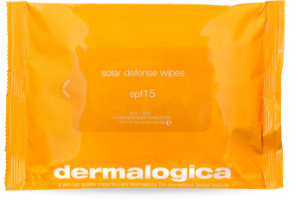 And here's another product that I have on hand these days: Dermalogica Solar Defense Wipes spf 15 are low on the sun protection factor which makes them just fine for fall days when you're going to get some sun but not enough to really warrant a high spf.
What I love is that one wipe is enough for the entire body and the sunscreen is light, non-greasy, and totally sheer.
Pick it up at your local Dermalogica spa for $28 for a set of 15.  These are so easy to use that even your kids will stand still for a quick wipe down before the football game.