This large bottle is filled with finely milled charcoal and other exfoliants, as well as a foaming cleanser that really makes skin feel clean.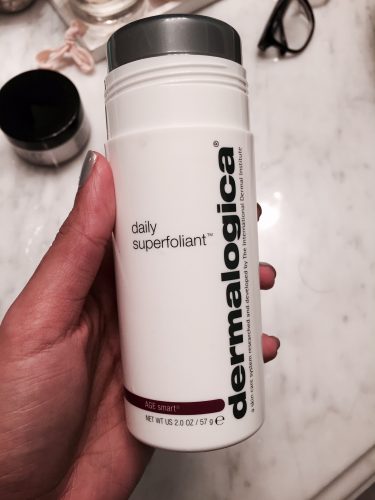 Dermalogica's Daily Superfoliant is brand new and adds to the brand's already well-known exfoliators.
It's different in its category because it comes out as a powder and you mix it with water.  AS soon as you do, it foams up and you can rub it on your skin.  The powder is so finely milled that you'll feel a slight grittiness but not actually a scrubbing feeling like there is with most scrubs.
Because there's also cleanser in the formula, this is great at wiping off remnants of makeup or previous cleanser.  Your skin is super clean but also brighter because of the scrubbing.  You can use it daily, or as often as your skin can handle it.  My skin is pretty oily so it can handle a daily scrub.
Available at Dermalogica.ca or at skin spas for $79.