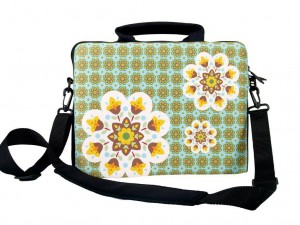 I have a Macbook and one of the things that I love about it is that it's light enough and portable enough for me to take anywhere I want.
Recently, I got a new laptop bag from Designer Sleeves. It's a really fun way to protect and carry my computer wherever I go. The bag is thick and padded (though I have to admit, it's more of a sleeve and not as thick as a real laptop bag), but best of allt hey come in fun designs. I got the wave one and absolutely adore it.
The bags come in different sizes (so if you have a Macbook Pro, for example, you can get one too) and they range in price from about $35 – $50.
You can get yours at www.DesignerSleeves.com