Because I loved @cherylkozoriz's post featuring her favourite desk side beauty staples so much, I thought I'd write one of my own, because there are a few products that are always at my desk and within easy reach.  Unlike Cheryl, the products on my desk are basics – I don't do blotting papers or powders, I put my makeup on once a day (first thing in the morning and that's it), and although I love facial mists, I use them in the summers only to freshen myself up.  My beauty staples are quite basic, as you'll see.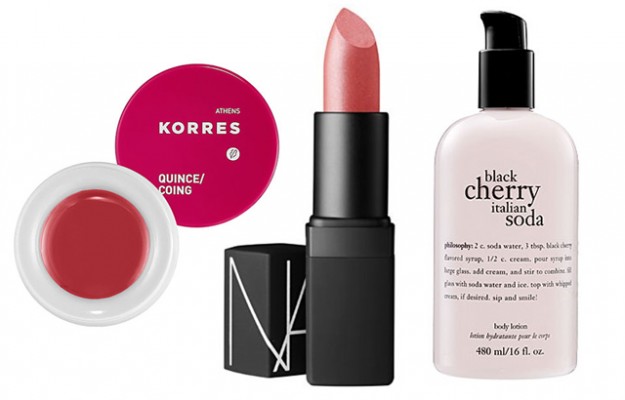 Hand Cream
Like Cheryl, I need a hand cream available at all times.  Right now, I'm loving Philosphy's body lotion in Black Cherry Italian Soda.  I normally don't like gourmand scents, but this one isn't bad (just mildly fruity), and it's majorly moisturizing.  Philosophy's lotions are probably my all time favourites, so I'm never without them.
Lipstick
I'm primarily a lipgloss girl, but lipstick is perfect for meetings where you want your pout to look perfect.  I am loving Nars Mayflower which is the perfect pink (kind of like a medium toned watermelon pink) – my lips but better because it's a shade brighter than my normal lip colour and the pretty pink goes with any eye look that I'm wearing.
Lip Balm
Like Cheryl, I need balm on hand at all times, and funnily enough, my go-to product is the same as hers!  Korres Lip Butter has a smooth marshmallow consistency and the tint of colour adds a touch of polish.  My colour is Qunice which is on the rosy side and definitely more my style.  I normally don't like lip balm that comes in pots (gets the fingers all dirty when you have to get back to work), but the Korres one is so nice, and the splash of colour is so worth it, that I can't help but use this.