Differin is a retinoid product that in Canada is only available with a prescription, but in the US, a low concentration of it is available over-the-counter.  So guess what I did when I was in San Francisco over the Christmas break?  I went to the local CVS and found it, right next to Neutrogena and Yes To products.
It's labelled and recommended as an acne treatment, but it also has the side effect of softening skin, reducing fine lines, and increasing collagen production in the skin, which are all things that people want as their skin ages.  So, you can use this for acne, and you will notice that your skin will be better in the long run and you can keep using it if your skin gets used to it.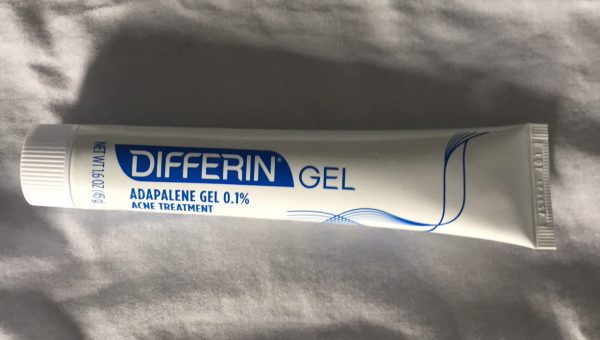 The only version that's available is the Differin gel, as opposed to the cream, and that was fine with me, because in all the reviews that I had read, the gel was the more recommended product.  Apparently it tends not to pill and absorbs with a matte finish that's more preferred by people with acne since they typically have oily skin.
0.1% of Adapalene is WAY stronger than any retinol product that's available over-the-counter.  This will be stronger than Drunk Elephant's Protini (which I'm dying to try), any of The Ordinary's retinols (even their Granactive), Skinceuticals' retinols (click the link to see my before and afters), Paula's Choice boosters, etc.  Even if you use those, you're going to have to let your skin get used to using Adapalene.  It helps your skin exfoliate itself which is how it prevents wrinkles and also helps your skin look smoother and better.
The best time to use it is at night time, and you could even mix it with a Benzyl Peroxide product if you're really trying to get rid of acne.  What you'll notice when you first start to use it your skin will be tight and dry.  Keep using it daily and you might see some peeling, and if you keep going, your skin might get irritated.  That's when you're going to stop using it because it'll make you uncomfortable, and your skin might look worst than it did before you used it.  This is all normal.
But what you could do is use it once or twice a week to start.  If you find that your skin is still looking and feeling great after a few weeks, start using it one more night each week for a few weeks, and then one more night and one more night, until you find that you can use it every night with your skin looking and feeling comfortable.  It will take 6 weeks for you to see results – less acne, fewer fine lines, better skin overall.
So I used Differin for about that time.  And I found that I don't love it.  I probably don't suffer from enough acne to really warrant such a strong treatment.  Right now, I just have one breakout and it's miniscule and can be easily treated with Niacinamide.  It made my skin dry and tight, and I found that I still broke out.  I also find that my skin does better when I use glycolic acid on a regular basis.  I want my skin to be really smooth – and that's even when I don't have acne – and glycolic and lactic acid does that for me.  It makes the texture so great, and makeup goes on really smoothly.
Differin could also be used on KP which I have on my upper arms, and I could use it for that, but we'll see.  In Canada, Differin is available with a prescription.
I think this cost me about $23USD.