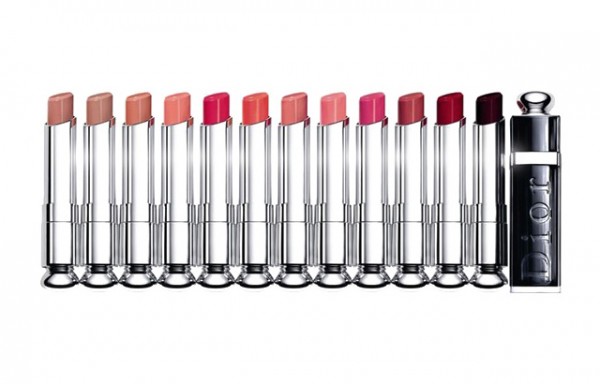 My life is a revolving door for lipsticks and lip products.  I'm constantly on the hunt for something new.  I keep a lippie on my desks, in each of my jackets, in my car, and on my dresser.  The kicker?  Each an every single product needs to be versatile enough to wear daily to almost any event or occasion – not too bright, not drying, hydrating, but lasting too. It has to match the neutral blush and eye shadow that I'm wearing, and it needs to be easy to apply without a mirror.
My latest love that I can't get enough of is Dior Addict Extreme lipstick in Mirage (338) – the lipstick formula isn't new, but the colour is part of their summer collection and it's a beautiful peachy/beige that works well with bronzer on the cheeks.
For the record: Mirage comes in the regular Dior Addict lipstick formula and in the new Dior Addict Fluid Stick, but I love the Addict Extreme version.
Dior Addict Extreme lipstick is made up of a blend of waxes, oils, and hyaluronic acid, so while it delivers on colour, it is super hydrating.  It's hydration you can feel from the very first swipe because this lipstick is soooo smooooth.  It just glides on to the lips, and makes them feel amazing.  Truly, this lipstick is better than a balm because of the colour payoff, although it's nowhere near as pigmented as a matte lipstick might be. In fact, I don't like using the brighter versions of this lipstick because it's so moisturizing that the colour doesn't stay put and can look a little messy. But the more natural looking colours… go for them. They are easy to wear and look great.
There's no annoying scent, and once you wear it, you forget that you have it on.  Because it is a hydrating formula, the finish is slightly shiny but still natural-looking.  Not surprisingly, it doesn't last a long time on the lips and wears quickly if you're drinking or eating, but it's such a pleasure to apply that you're going to love it.
It's a keeper.
Pick it up at Dior counters for $32. When you're looking for them, check out the lipsticks in the navy blue cases.