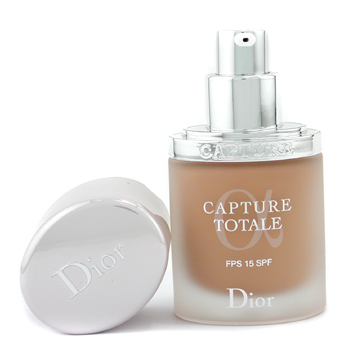 Just in time for the colder weather, where skin starts to need a little something extra, Dior has added to their Capture Totale line a new foundation.
Dior says that the foundation is "a unique blend of Capture Totale anti-aging ingredients (Alpha Longoza™ and Centuline™), optical correctors and HD Liquid Crystal Pigments™, this revolutionary serum foundation gives skin radiant 'high definition' perfection in every dimension. Thanks to a broader band of multi-toned pigments more subtle, real and natural than the four (red, yellow, white, black) usually used in foundation. Treats all the signs of aging. Boosts collagen, nourishes, replenishes, re-plumps.Ideal for mature skin, dry skin or dull, 'flat' skin lacking radiance."
This is a moisturizing full coverage foundation that does add subtle radiance to the skin thanks to some pearl in the pigment as well as the moisturization that it provides.  When I used this, I found that my skin felt really comfortable because it was so well moisturized!  I also loved that the foundation is super easy to blend which means that it's easy to make it look natural.
All the products in the Capture Totale line are perfect for dry skin and if you want a moisturizing full coverage foundation, this is your best bet.