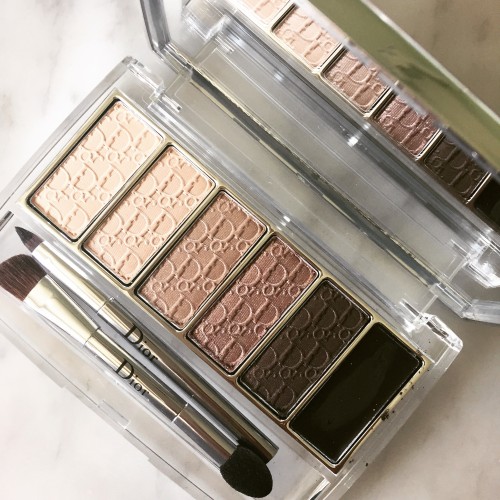 This spring, Dior released its own version of the neutral eyeshadow palette.  Called Eye Reviver Illuminating Neutrals, this is a group of shimmery taupe/grey shades of eyeshadows that can be used to create a host of looks.  The palette steps it up from others available by including a black gel eyeliner so that you really can create an entire look with just this palette.
The palette has classic Dior touches: the compact is slick and shiny, the shadows have raised D lettering on them, there's a full-sized mirror inside, and one dual-ended brush, along with an eyeliner brush.
All the eyeshadow shades have amazing pigmentation.  A little bit goes a long way, and they are silky smooth so they blend quite easily, especially if you use the lightest shade as a base and layer the other shades on top. The third shade from the left really reminds me of MAC's Satin Taupe which was a limited edition smoky shade that came out a while ago, but remains a collector's item to this day.
I've gone through almost every other neutral palette out there, but I can tell you that this one has staying power in my makeup kit – and that's simply because of the size.  It fits in my makeup drawer compartments without taking up too much extra space, and that's a definite plus for me.  I can throw it in a travel kit without it taking up too much space, and this has every shade I'd need for a neutral daytime look or a smoky evening look, so it's great for touch-ups too.
Available at The Bay for $63.