If you're looking for foundation that is weightless, the new serum foundations are the way to go.  They not only deliver good coverage, but because every single brand seems to have a version, you can find the perfect one for you.
Here's my advice: stick with the brand that usually has options for your specific skin tones… unfortunately, that means that MAC and Make Up For Ever don't have options, but Bobbi Brown does, and the other brands won't be far behind.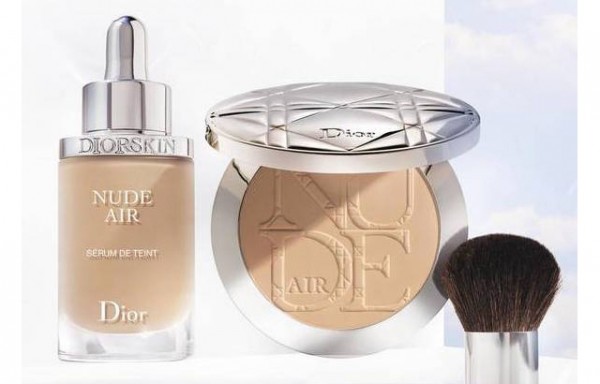 Dior's Nude Air Serum comes in the typical Dior foundation shades – there are seven shades which means that there are not many options.  Lucky for me, I seem to fit the 300 shade most times, especially during the winter, so that's what I've been using.  Before even testing out the shade options, you need to know that this foundation is highly scented.  It has an almost perfume-like quality because I found that the fragrance just lasted and lasted on my face, and it took a while for me to forget that the foundation was there.
The foundation is SPF 20, but despite that it doesn't seem to have a whitish cast or any chalkiness to it, which is nice.  It goes on so smoothly and lightly that I couldn't feel it on my face.  It's best to use these foundations with your fingertips, and with just a few drops I was able to quickly even out my skin tone and make it look amazing. 
You can definitely use a foundation brush for this foundation too, but I find that because the consistency is so liquidy, the product gets lost between the bristles and you end up using more product.  That said, this usually doesn't bother me because I don't like to get foundation on my hands in the morning in case I somehow touch my clothes first thing in the day.  A brush uses more product but because I need such a small amount anyway, it's ok.
Definitely don't use a beauty blender for your serum foundations – the sponge will just keep absorbing liquid and you'll have hardly anything to deposit on your face.
The Dior Nude Air Serum is one of the most weightless and traceless foundations out there.  If you don't like the feeling of foundation on your face, or if you want something light that can even out your skin, this is a great one to try.  It doesn't even have any shine so it looks quite natural.  There's also the Dior Nude Air Powder which is great for setting makeup and giving skin that matte finish while still being quite light.  You might not need it to set this foundation because it sets on its own, but you will need it if you want to apply powder blush – the setting powder will keep everything where it's supposed to be without any streakiness.
So is this my go-to foundation right now?  I'd have to say no… but mostly because the colour match isn't perfect and I need something just a little warmer.  I'm in between a 300 and 400 and there isn't anything that's quite neutral or warm enough that's a fit… which is why I suggest looking for a serum foundation that matches your skin tone exactly by going to a brand that you're familiar with.
Pick up the foundation and powder at Sephora or other department stores.  The Nude Air Foundation is $53 and the Powder is $58.