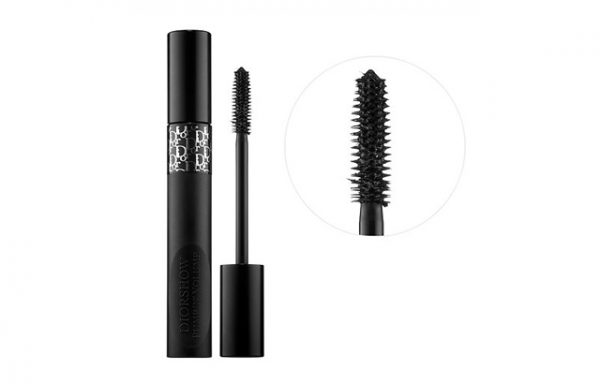 Dior's new mascara, Pump N Volume, changes everything by allowing you to choose how much product you want on the brush wand.  It comes in a matte black tube that's soft in the center, where you squeeze to allow product to attach itself directly to the wand.  It lets the brush get fully loaded so that you can apply lots of mascara to your lashes.
What the mascara really has going for it is that the formula is amazing.  It builds volume, lengthens, dries quickly and wears even in hot weather without any smudging or flaking.  Truly this is the creme de la creme of mascara formulas.
I also like the wand: it's got rubber bristles which I find are the best for really separating lashes and coating each and every lash.  It's just the right size too, so that mascara stays on your lashes and doesn't go anywhere else.
While I like the idea of wearing lots of mascara, I actually found that squeezing the tube put too much product on the wand, to the point where it was hard for me to apply without getting it all over my eyelid.  I prefer not squeezing it, getting just the right amount of mascara on there and then applying, and going over my lashes with a dry brush to make sure that any clumps have come out.
If you apply lots of product, then the mascara goes on really heavily. Not so that there are clumps, but just lots of product on your lashes, so that they kind of stick together instead of being separated.  If you like spider lashes, then this might work for you, but I like more of a separated look, so I keep going through the lashes until they're all separated.  The good part is that the mascara and the wand seems to coat all the lashes from base to tip so that they look longer than ever.
The other thing that I like about this mascara is that it's truly long-wearing.  I actually need real makeup remover to take it off, because regular cleanser and water don't seem to work.  It smudges a bit if you've got lots of product on your face, but if your skin is normal/dry then you won't have an issue with smudging.
If you're looking for a good wearable summer mascara, this is a great option, especially if you like volumized lashes.
Available at Dior counters. $37.