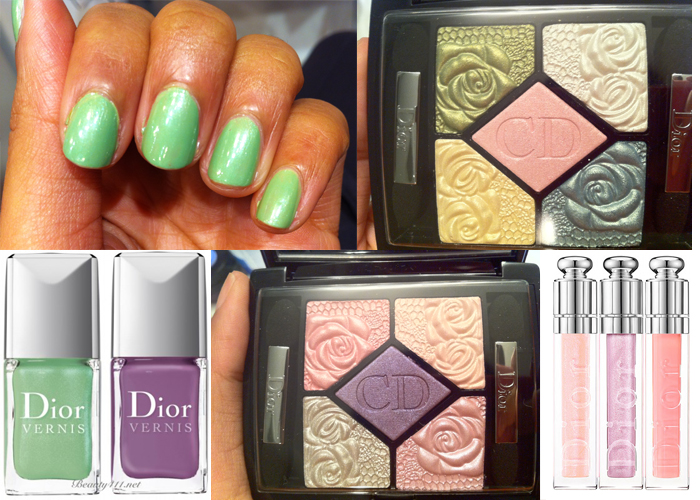 Check it out: Dior's new Spring 2012 makeup collection allows you to match your makeup to those pretty pastel clothes we're going to be seeing in stores soon. The colours are – well anything but neutral – but go on sheer and wearable.
My favourites from this collection are the nail polishes – they are scented! You can actually smell the perfume coming out of them for at least a couple of days, which is nice, but the scent is a floral mixed with the usual smell of perfume. It's a nice gimmick but it wouldn't make me buy the polishes unless I really wanted to wear the colours. Waterlily is the green, and Forget-Me-Not is the aptly named purple. Fragrance (lotions, etc.) usually eats away at polish and makes it come off, and I did find that these polishes chipped off very quickly.
The quints are gorgeous, of course, and the colours are Garden Pastels, a mix of shades, and Garden Roses, mostly pinks and silvers. ($60 each)
The glosses are Party Lilac and Pretty Rose (middle and right), and also Socialite Pink which will only be available on Dior.com.