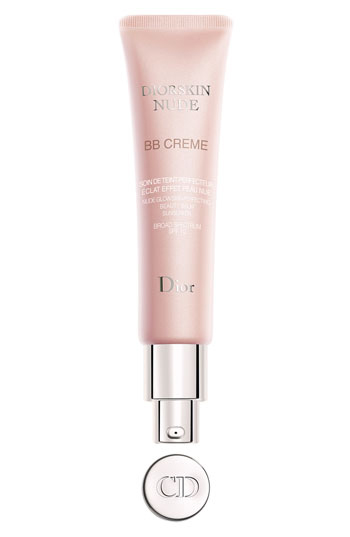 Before there was the Diorskin Snow BB Cream, but we are so happy that Dior has now brought out a BB Cream for the masses, and it is fantastic.
The 'Diorskin Nude' BB Creme Broad Spectrum SPF 10 is the perfect marriage of skincare and makeup.
First up, the obvious: it's got SPF… not a whole lot, but if you're not wearing anything else atleast you can rest easy that this BB cream can provide some sun protection for you. The low SPF means that there's no whitish cast and that this BB cream can function well as makeup.
The finish of the BB cream is like velvet. It's smooth and glowy and lasts the whole day, even on skin that's oily.
The BB cream is also enriched with antioxidants (really, shouldn't everything be these days?) and lets skin show through while still perfecting it and making it look polished. The BB cream is infused with Jisten to moisturize the skin, as well as mauve, hibiscus, and green, red, and white tea extracts.
Clearly, this wouldn't be suitable for someone who wants a full coverage foundation, but the cream is good enough that those who like tinted moisturizers might want to switch over.
The BB Cream is available in light (001), fair (002), and medium (003) and some may find that the colours veer to the pink side. That's because the formula is supposed to have a "pink light" effect to illuminate the skin. It might not work on deeper skin tones, but if this matches your skin, you're going to love it.
Stay tuned for the summer, because Dior is coming out with this BB cream in tan versions and SPF 15.
Available at Dior counters now for $44.