For a while now, oil hasn't been a dirty word when it comes to talking hair care. While before we wanted to do anything possible to avoid the "oily" products because of the greasy look they might bring, now the industry has done a 180. The realization has been that hydrated hair means healthy hair, and one way to keep hair supremely hydrated is to keep in natural oils, and when needed put more oils into the hair to hydrate and condition.
We've written about hair oils before – in particular, know when to spend money on a good hair oil and when to save your pennies.
It's also timely to acknowledge Ojon which was a game-changer in the hydration department – they encouraged us all to pre-condition with their heavy treatment, and their hair serum is really more like an oil.
And now, here's are some of the latest products that use oils in them. We've tried them all, and we'll tell you whether to spend or save.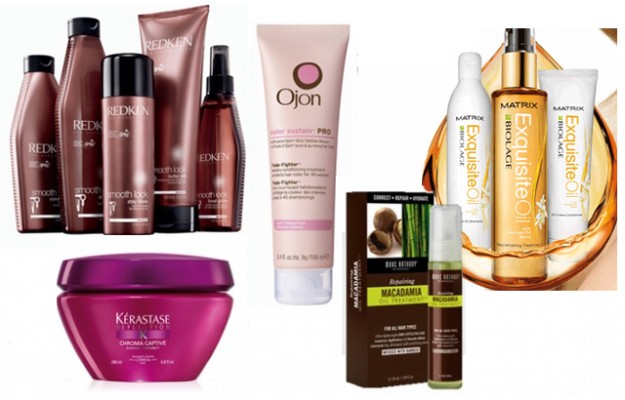 First up is Redken's new Smooth Lock system. The line promises to give your hair the right type of hydration so that it stays smooth longer instead of frizzing up. Their key ingredient? A patented Heat Fuse Complex and a Interlocking Protein Network, but also: Almond Oil!
There's a shampoo ($14.99), conditioner ($16.99), Butter Silk (an intensive super thick conditioner) ($21.99), Leave-in Cream ($20.99), and Heat Glide serum ($23.99).
Of all of the products offered, we love the Butter Silk and the Leave-in. The Butter Silk has shea butter in it, and the Leave-in is so concentrated because of the coconut oil that's listed as the second ingredient! If you need serious hydration, we recommend picking up either of these two products or the entire line. We truly did see less frizz after just one use.
Though the Redken products contain oil in them, truth be told, they're so well made that you could hardly tell.  But if you are willing to try something more… oily, then you need to check out Marc Anthony's new Repairing Macadamia Oil collection.  Macadamia Oil is lightweight yet super hydrating, so it works for all hair types without weighing hair down.
Our favourite product was the Repairing Oil Treatment ($9.99) which feels oily to the touch but actually absorbs into your hair without any residue or weight.  It's light as air and yet still moisturizing and easy to use.
Those worried about oils adding dullness to colour-treated hair need not worry – there's Ojon's Color Sustain PRO Fade Fighter, ($33) a conditioning treatment which not only contains the repairing Ojon Oil, but also has Babassu, Jojoba, and Tahitian Monoi Oil in it.  The treatment is used in the shower and seals the cuticle making hair look nice and shiny and protecting it from color loss.  Used weekly, it promises to protect color for up to 40 washes.
Of course is colour care is your priority, then Kerastase's new Chroma Captive  is just the ticket.  The products contain Linseed Oil which leaves the hair fibres smooth and helps hair reflect light.  An added benefit is that the shampoo is sulfate-free but still provides a rich lather, meaning you end up with super clean hair without drying it out or doing any damage.  The system promises to lead to up to 50% less colour fading, which means that we're golden until our next trip to the salon.  We loved the Masque Chroma Captive ($61) which is super hydrating and perfect for using on days when your hair needs a little extra TLC.  It's thick and rich, and perfect on colour-drenched ends which usually need some extra care.
Though most of the brands we looked at had nice oils and worked well for our hair, there was one line of products that we were less than thrilled with: Matrix Biolage's ExquisiteOil.  Both the shampoo and conditioner in this line have hardly any of the advertised Moringa Oil in them (it's way down on the list of products, which are always listed from most to least), and the hydrator in the conditioner is mineral oil – nothing special.  Even the Exquisite Oil has mostly silicone in it, so we'd rather pass.  For a salon line, we found this one to be lacking.
At the end of the day, all the products we tried left our hair silky and smooth without any weight.  The worthwhile products are even lighter than the first silicone-based products on the market, and the best ones are a hybrid of oils and other conditioning agents for your hair.  When choosing an oil-based product for your hair, make sure you find something that really is light-weight – that way you can play with how much you use.  Also look for oils on all levels of hair care – you want hydration in the shower and out of it.