My father had gorgeous thick wavy hair and it was grey for as long as I can remember. I've inherited his hair genes on all counts – unfortunately including the early greys. And while the look worked for my dad, I'm not giving up my chestnut colour anytime soon. Around a year ago, my randomly scattered grey highlights drove me to visit Civello salon for deposit-only (I can't deal with the idea of permanent) Aveda hair colour that's 99 per cent botanically-derived and blends with my natural colour.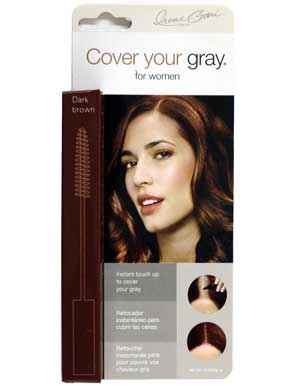 As much as I love rich even tone, a good head massage and gossiping about favorite YA reads with my colourist Benn, I tend to be lazy about salon appointments. So, when I recently spotted a hair mascara in a Manhattan drugstore, I didn't hesitate to purchase it. Although I've tried a touchup stick version with disappointing results (chalky, gross), I've never seen a mascara-style product in Canada designed to cover grey. For a less than $10 investment, I'm always happy to experiment on myself.
There were five brown shades to choose from (plus a blonde, auburn and black) and I went with dark brown, the second darkest. The colour itself is warmer than I expected and actually matches my hair nicely. Application is easy – the wand is simply brushed through any grey areas to even out the colour. It works fairly well. The coverage isn't perfect but it definitely tones down grey strands. There is a slight product feel to the hair that I didn't like – as though I had applied hairspray to the area. The colour washes out easily with shampoo.
Hair mascara is a decent option for people with a concentration of grey hair in a specific spot but it would be trickier and more tedious to apply on grey strands scattered throughout the hair. I think I'll stick to regular salon appointments.