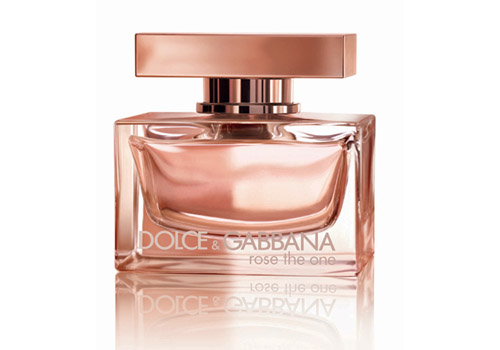 Around here, you know that I have a thing for rose-scented perfumes, and my latest find is Dolce and Gabbana's Rose The One which was launched in 2009.
The official notes of the scent are: black-currant, pink grapefruit, mandarin, lily of the valley, rose, litchi, peony, Madonna lily, ambrette seed, sandalwood, musk and vanilla, but I have to say that I don't smell a lot of vanilla and musk in the drydown, and despite all the fruits in the descriptions, this is not a gourmand fragrance.
It is, however, light and refreshing, and wholly rosy in a way that a teenager might appreciate.  There is a pink grapefruit opening which is fresh and pleasing, and it's a note that seems to last throughout the scent.  The middle notes are rose, lily of the valley, and peony to give it a very feminine floral aspect.
The drydown would have been nice if it had been a vanilla or musk base, but it's not.  The rose doesn't change into anything deeper or more interesting and stays light and fresh which may or may not be what you're looking for.
Though this didn't knock me off my feet, and it wasn't as dry and woody as I  like my scents to be, it was a lovely weekend fragrance to wear.  It wore easily, had good lasting power, and wasn't intrusive.  It made me feel young and pretty though on a daily basis, I would miss the edge of sophistication that I'm usually looking for.
If you like Chloe, you would like this too.  It gives you a nice quick fix of roses, which is sometimes all I'm looking for.