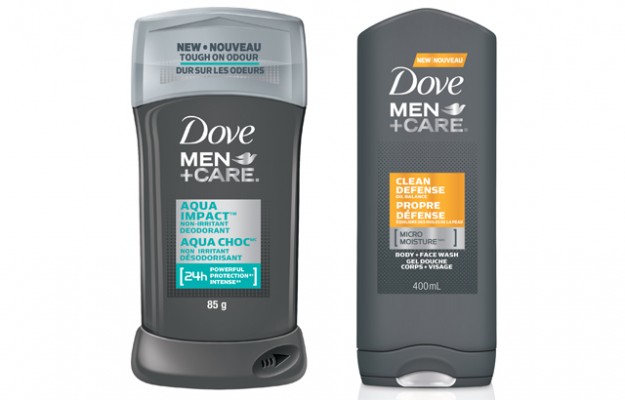 I haven't reviewed any men's products in a while, but that's because my volunteers aren't great at giving reviews so I just don't bother them – most guys I know don't like deviating from their usual products!
That said, I found someone that was interested in trying Dove's new Men+Care Aqua Impact Non-Irritant Antiperspirant and Clean Defense Body + Face Wash.
My tester was wary about trying the deodorant because he had found that deodorants other than the one he used usually caused irritation.  He only agreed to try the Men+Care deodorant because it specifically said non-irritant on the bottle.
True to fact, the deodorant didn't give him any irritation which was a first!  He also noticed that the deodorant was softer than the one he was used to and so it got used up faster.  It also wasn't long-lasting, and didn't smell very fresh at the end of the day, though he said that he could still smell a bit of it.
The bodywash experience was much more positive.  My tester liked that the body wash created lots of lather (I'm sure in his mind this meant he was getting cleaner), and the smell was nice and manly but not overpowering or annoying.  Unlike most soaps, the bodywash didn't dry out his skin, and it was suitable for washing his face too, though he preferred his normal soap for that.
All in all, although my volunteer wouldn't buy the Antiperspirant, he would use the body wash again.  I think that Dove has found what men like in both their products – something that's multipurpose, and keeps in mind that men can suffer from irritation too.  If you're looking for more gentle products, check out Dove!