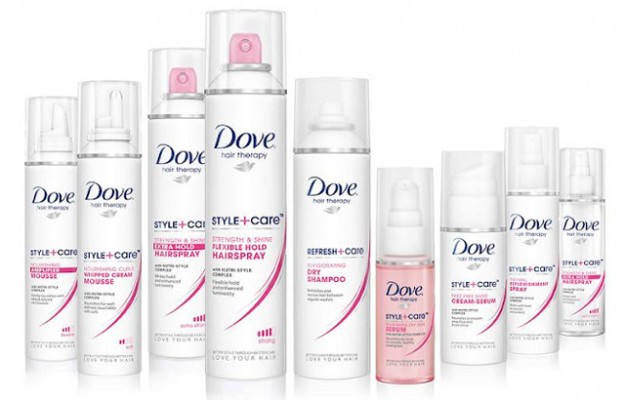 I love this line so much that I'm giving it away.
Ladies, every once in a while, I try a product line that I think is BANANAS, and this one definitely fits the bill. It's a line of products from the drugstore and the formulations are truly unique and completely different from everything else that's out there.
When I met with celebrity hair stylist, Mark Townsend – who's a spokesperson for the line – he couldn't stop raving about the products and how he used them. One thing that we talked about a lot was how dry and damaged celebrity hair can get because of all the intense styling it gets. Stars are often asked to bleach and dye their hair for different roles, and then experience major styling on and off set. Just like it does on us "regular" people, all that styling takes a toll. And guess what – there's really nothing uber-fancy or expensive you can do to take care of that damage. They do what most of us would do: put oils and intense conditioners into hair while you're not on screen, and take gentle care of it until it all grows back.
And that's what Mark loved about the Style+Care line: it did a great job in helping him style hair, but it also nourished hair that was already super damaged. Mark really played with the products and got them to work for him. He's known for his textured style (he's hair stylist to Mary Kate and Ashley Olsen, and did Jennifer Lawrence's hair as she was promoting The Hunger Games), and the Style+Care line let him play with hair. Talking to Mark made me get excited too: so much so, that I couldn't wait to try all the products in the line and as I did, I noticed that I was reaching for them rather than some of the more expensive products in my bathroom.
So without further ado, here's a rundown of the products in the collection and what makes them so awesome.
1. Dove Refresh+Care Invigorating Dry Shampoo. I've already talked about this dry shampoo and it's truly a winner. Invisible and light, it leaves hair fresh in a snap. Before meeting Mark, who knew that there were so many ways to use dry shampoo? Mark not only used the dry shampoo for giving a just-washed look to hair, he also used it to hold the infamous Katniss braid in place. This came out when I asked him how I could get a braid to hold – my hair is super fine and any kind of braid kind of just unravels itself by the end of the day. Mark said to spray my hair with the dry shampoo and then braid it, and it actually worked! The dry shampoo gave my hair texture but it was a light workable texture rather than a tacky texture that most texturizers end up giving. In fact, Mark said that this was his go-to product for doing up-do's because of the fact that it held hair in place while he was styling. He even sprayed it on bobby pins so that they wouldn't slide out of super fine hair. Genius, no?
2. Dove Style+Care Nourishing Curls Mousse. I've actually thrown away a few mousses now that I have this in my bathroom, and again, it's another Mark Townsend favourite. This is the next generation of mousses, so why use anything different? The mousse ups the ante by being a serum and mousse all in one. It has a slightly denser and more waxy texture than regular mousse and that's why it's so awesome. It gives curls a luminosity that regular mousse just doesn't, and because it's conditioning, it doesn't dry hair out. The waxy texture of the mousse means that hair looks volumized and curls get nice and defined. Mark used it before blow-drying, but this made my curls look so good that blow-drying wasn't even needed. This is a beachy wave must have – forget about dry crunchy hair when you can have touchable conditioned hair with just one product.
3. Dove Style+Care Extra Hold Hairspray and Flexible Hold Hairspray. My favourite hairspray used to be a more expensive salon brand, but now I use Dove Style+Care. I love these hairsprays because the mist is super fine so it's hard to overdo it on your hair. Even with the Extra Hold, there's no crunchiness, and hair is super shiny after I use it.  That said, the Flexible Hold is more my style and that's the one that I prefer to use.
And now for the giveaway: you can win the entire lineup of Dove Style+Care products, including a few that I haven't mentioned such as their Volumizing Gel, Amplifier Mousse, and Cream-Serum. All you have to do is get on Facebook, and share the image of the Dove Lineup on your page! We will pick a winner at the end of the week.