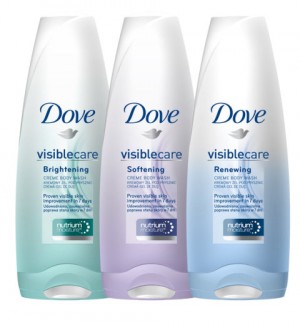 I have had Dove VisibleCare Body Wash sitting in my bathroom for over a month now, and I'm kicking myself for not trying it sooner.
The body wash is the latest release from Dove, and I'm useing the Renewing Creme version. 
This is the thickest most luxurious product right out of the bottle.  It comes into your hand like a thick body butter, instead of a liquidy soap, so you know that it's formulate with tons of hydrators for the body.  You can put this on a pouf, a towel, or any kind of scrubbing equipment, but with a bodywash so nice and thick, it's best just to put it straight on the skin like a cream.  It's foaming, but you can rub it in gently for lots of moisturizing. 
The lather this provides is thick and rich, so you don't need a lot to get you clean, but like I said, I like to rub it straight on to the skin so that I can get more moisture and get clean at the same time, so I probably use more than the average person.
The bottle says that you can see visible improvement after a week of use, and it's true.  You're putting moisture right back on to your skin while it's wet, so it gets sealed in.  Within a week, I noticed softer smoother skin, and if you live in a cold climate, you'll notice a difference too.
I think this is the best body wash to come out in a long time.  It matches my old favourite Olay Body Wash with Body Butter Ribbons which came out years and years ago. 
You can get this at the drugstore for just $7.49 and in the colder months it is money well spent.