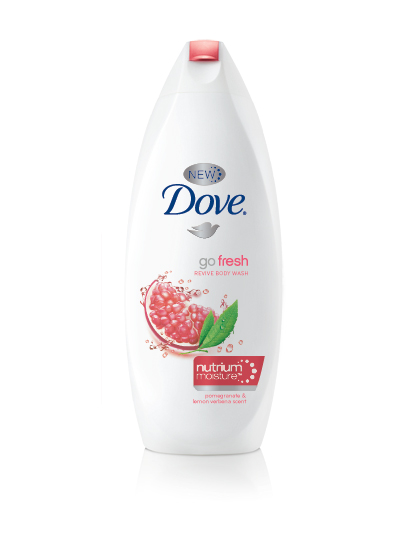 Dove has a new scent in their Go Fresh line of body products.  The scent is called Revive and is a combination of pomegranate, lemon, and verbena, and are seriously the best-smelling drugstore products I've used in a while!
It's a fresh scent, but at the same time it's tarte and kind of musty in its own way.  If you've ever eaten a pomegranate, you know of the scent that comes out of it when you break it open.  It's at once fresh but all the fruity cartilage gives it an earthy scent almost like wet forest, and believe it or not, all that is in Dove's Revive scent!
The scent reminds me of Pomegranate Noir by Jo Malone, and it's nice that I can add that to my daily routine without breaking the bank.  I'm using the Body Wash with NutriumMoisture, and that, coupled with the body mist is leaving me smelling fresh for the entire day.
In other news, Pomegrante promises to be the ingredient of the year, and is quickly becoming ever so popular.  Expect to see way more of it on shelves everywhere.