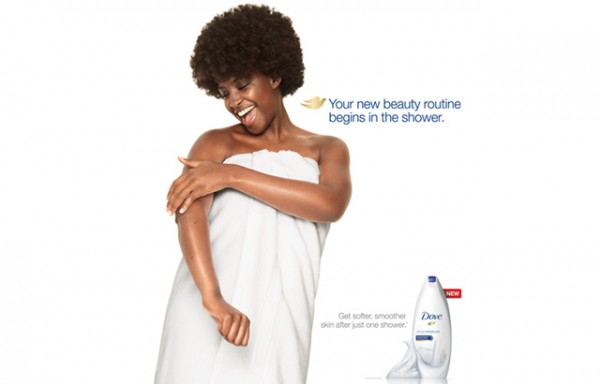 Here's the thing about Dove's new body wash: it really is the richest, thickest, most intensive one that I've ever tried and that's why it's so amazing. Imagine: a body wash that looks and feels like body butter, but manages to lather just enough so that you know it's soap.
And the lather… it's the stuff that clouds are made of.
It's not the kind of lather that makes the moisture disappear… or makes you think of how dry your skin is going to be afterwards. This lather is anything but soapy.
Instead, it is rich and thick, and feels soft on your skin and more like a whipped cleansing hydrator than a true lather. It's amazing and I love it.
It turns out that Dove's Deep Moisture body wash is made of an ultra-mild cleanser that's usually found in high-end face washes. It also has 10x more nourishment than other body washes on the market. That means that although it's super cleansing and lathering, it's also very mild and nourishing at the same time.
Dove believes in it so much that they invite you to take the #OneShowerChallenge – something you may have seen me tweeting about. They invite you to take just one shower with their new body wash and see how much soft and smoother your skin can be compared to how it was before your shower. It's true – this body wash actually has the power to make your skin better than it previously was.
They believe: "beauty begins in the shower"
In fact, Dove is launching on a cross-country tour with their body wash. They're going to four malls across Canada and giving people free samples of their body wash. Here is where they are going and when:
o BC – Metropolis: Sept. 19, 20, 21
o Calgary – Chinook: Oct. 3, 4, 5
o Toronto – Yorkdale: Oct. 10, 11, 12
o Montreal – Fairview Pointe Claire: Nov. 7, 8, 9
If you can't wait for them to come to your home town, know that you can also purchase the new body wash wherever Dove products are sold – the body wash is already on shelves now.
If you take the #OneShowerChallenge, be sure to share your experience using the hashtag (#OneShowerChallenge) and also visit the www.doveshowerchallenge.ca website to find out how to be be entered to win a getaway for two to Costa Rica!
For more details on how you can take the challenge, check out the Dove Body Wash website.