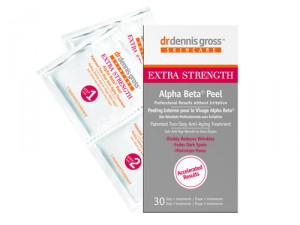 If you've been reading this blog for a while, you know that I have a thing with peels.  There's no faster way to a clear complexion and because I deal with hyperpigmentation, I am always on the lookout for the latest great product.
So here's the short version of the review: this isn't really a peel.  No peeling was actually experienced after using this product.
Read on for the longer version, because I actually did like the "peel".
Basically, this is a set of two different treatments that are meant to be used together.  They come conveniently packaged separately.  Step 1 is a face wipe soaked in glycolic acid.  Step 2 has a combo of retinol and vitamin C.  All are fantastic ingredients that help speed up skin cell turnover, so that you can end up with clearer, more even skin.
The peel kit works too – the only downside is that you will definitely need to go through  the pack of 30 to notice any difference (that's 4 weeks worth), and also need to repurchase frequently to continue to have clear skin.  Also: stay out of the sun if you want to maintain the effects.
The kit retails for $88 on TheShoppingChannel.com and I did not find the extra strength version that potent, so I suggest that if you don't have sensitive skin, that's the version that you go for.