Here are a group of products that I cannot stop raving about.  If you've asked me about any skincare malady within the last month, chances are that I've recommended Super to you because I love it so much.
Dr. Perricone's new line is based on the theory that there are super foods that have ingredients that are phenomenally good for your body, inside and out.  Examples are the omega 3's, and antioxidants that have proven to make a difference.  Dr. Perricone has long touted the benefits of having a healthy diet, and those benefits show up on your skin.  Now, he's got products to help even more, and I do believe that his products will make a huge difference.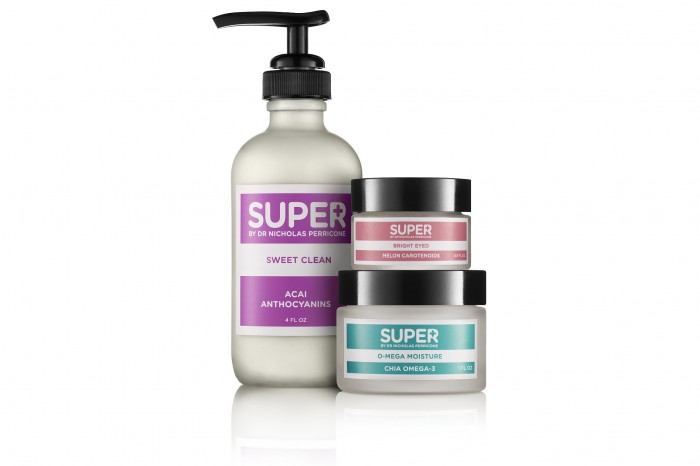 I tried the Skin Nutrition Kit, which includes the Sweet Clean cleanser, the O-Mega Moisturizer, and the Bright Eyed eye cream.
The Sweet Clean cleanser is amazing.  It's a cream that dissolves all your makeup, but it also rinses away completely clean.  I've never tried anything like it. It is hydrating but cleansing all at once, and it works for all skin types.
The O-Mega Moisturizer is similarly great.  It's basic but super moisturizing yet absorbs into skin instantly.  I don't know how it works, but it does.  The ingredients include Omegas Fatty Acids from Chia.  The moisturizer is truly nourishing and makeup just glides on afterwards which is really nice.
The last product is the Bright Eyed eye cream, which is also nourishing and fast-absorbing.
I have oily skin, but I loved all three of the nourishing products.  I felt that my skin really benefited from the extra dose of moisturizer.  Because it was so hydrated, I also felt that it was less oily throughout the day, which is a major bonus.
Pick up this set from TheShoppingChannel.com for $70.  It is the best line to come into the skincare market for a long time.