One of the highlights of 2014 (nope, not a typo) was meeting the twins that started the Dr. Roebuck's skincare line.  Having dealt with sensitive skin their whole lives, and looking for something that was gentle but actually made a difference on their skin, they decided to make a cream themselves with ingredients local to their native Australia.  If you have sensitive skin that's prone to redness, you have to check out this line (at Shoppers Drug Mart and Murale).  It's natural and so great for skin prone to eczema and rashes.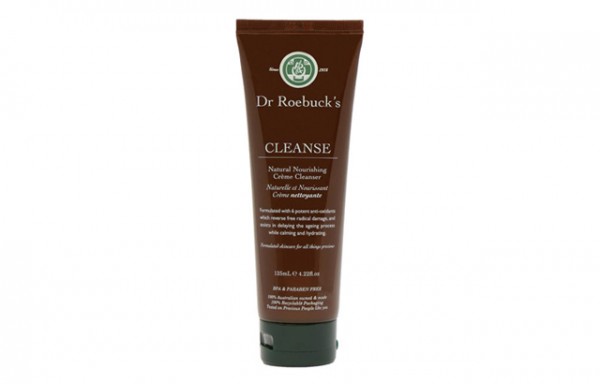 Now the line has a creamy face cleanser called CLEANSE ($22.95), designed to take off makeup and dirt, but also be gentle on your skin. It's formulated with anti-oxidants that actually help to reverse the signs of aging.
To be honest, this is like many creamy cleansers that are out there – yes, it melts makeup, but it also leaves a residue on your skin so if you have skin that's prone to breakouts, you'll want to cleanse again with something soapy.  I love the concept behind Dr. Roebuck's (and it comes from a genuine need in the market), but I don't suffer from sensitive skin right now, so I don't know how useful this would be for those of you who do.  I do find that when I wash with cleansers that leave a residue, that acts as a moisturizer on my skin and my skin is noticeably softer, which is a great thing.  But it's not so great for me when my skin is oily as it is.
If you're looking to spend your money wisely, I suggest investing in one of the face creams($55 or $59), and definitely the toner ($23) which will make a larger impact on your skin.
The brand is also coming out with an eye cream soon – it will contain caffeine to help combat dark circles and bags under the eye.
If you want to learn more about the line, check out this article in the Globe and Mail!
You can find them online at Murale.ca.